Weekend Getaway: Unwind in the Nature of Vorarlberg
In an effort to help travelers living in Dusseldorf explore a little more outside the city, I've taken the initiative to put together a long weekend guide to exploring a magical and romantic region is Austria.
… Okay, just kidding. I did it for myself, so I could celebrate my birthday doing what I love most, traveling and exploring the great outdoors. However, now, I'm taking the time to share my weekend with you so that you can do something similar when you have a long weekend free.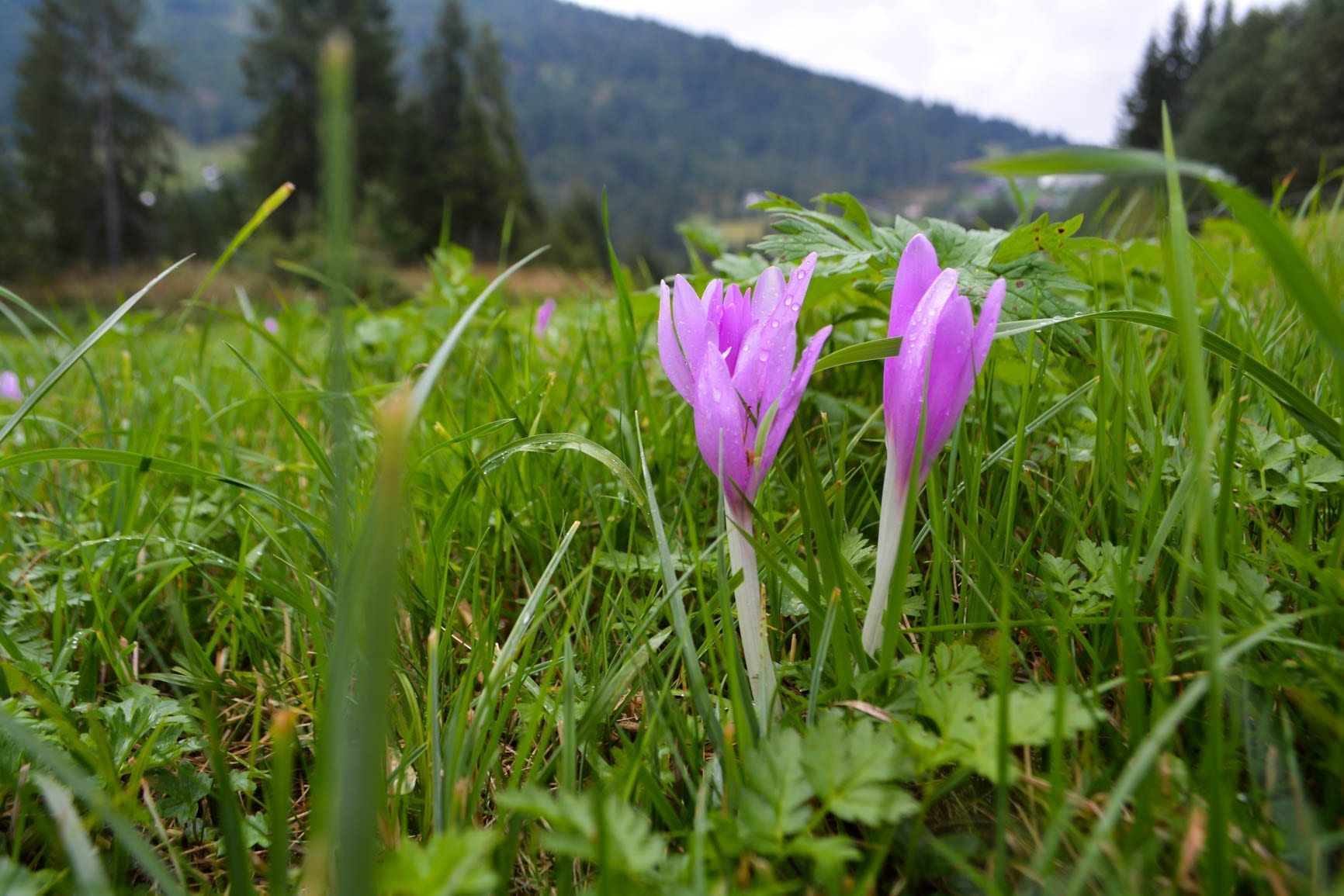 Vorarlberg is the perfect destination for travelers year round, they embrace local culture and cuisine in the spring and fall and offer plenty of hiking excursions year round and skiing adventures in the winter. Pick your favorite season and I promise you, Vorarlberg will not disappoint.
---
Friday: Off to Vorarlberg
I'm just assuming here that you're going to finish up your day at the office and then take off for your long weekend adventure until Monday, but feel free to adjust the schedule as you wish.
4:00pm: Departure 
Departure from Dusseldorf Airport

You have the choice to fly into Zurich or Munich depending on where in Vorarlberg you'd like to visit.

If you'd like to follow a similar weekend getaway as I did, Munich is your best option to arrive in

Kleinwalsertal
7:00pm: Arrival
Once you have arrived at the airport (Zurich or Munich) the best option would be to rent a car and start exploring (or take a longer adventure and drive from Dusseldorf).
The drive itself is an adventure as you'll pass by beautiful mountains, fields of cows and some of the most incredible architecture you'll ever see in towns this small.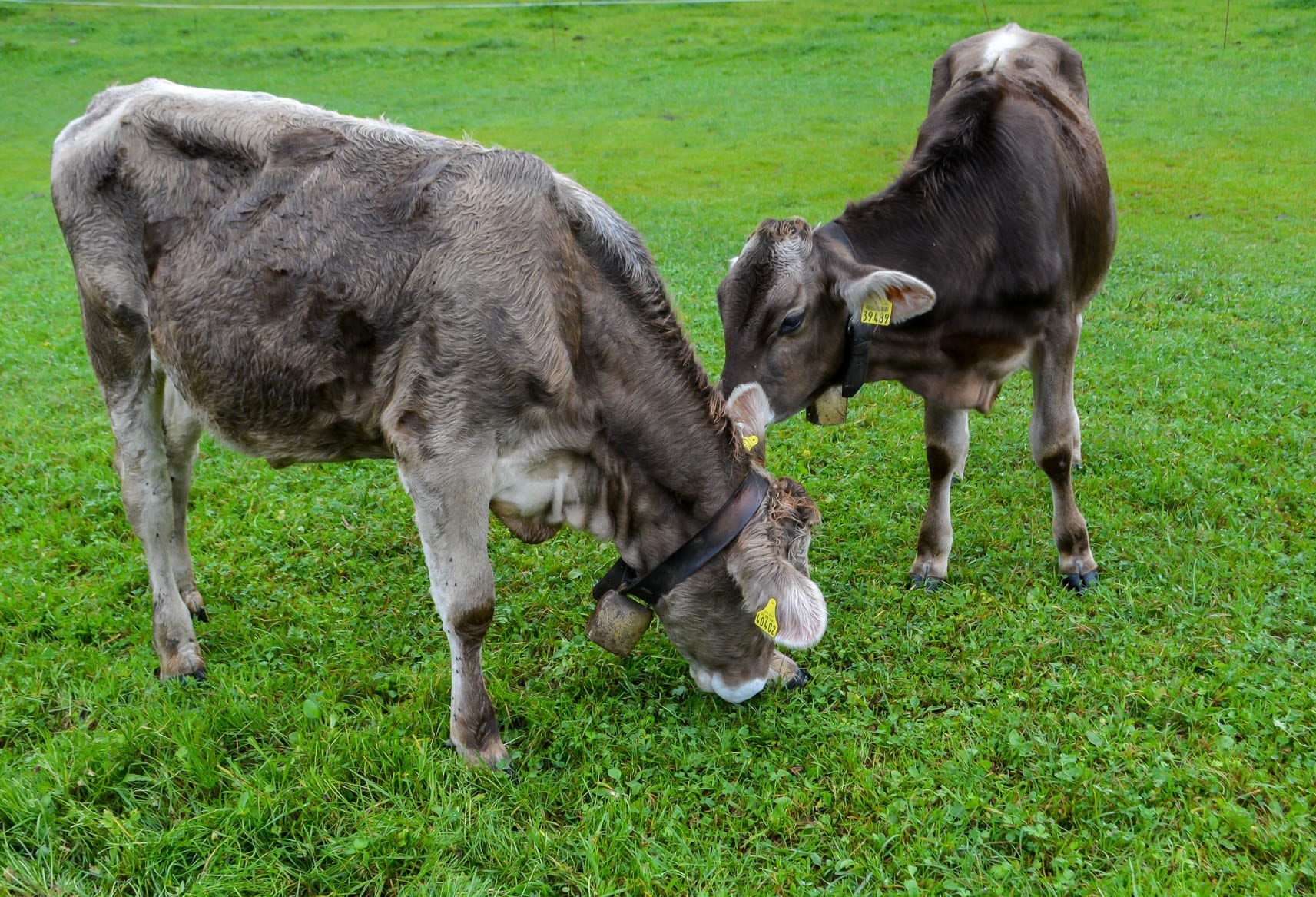 9:00pm: Check-in
It'll be getting quite late, so check into a local hotel and enjoy a relaxing evening. We checked in at das Naturhotel Chesa Valisa in Hirschegg, Kleinwalsertal and enjoyed a delicious regional meal and a glass of Austrian wine (you'll be able to do the same if you leave work a little earlier.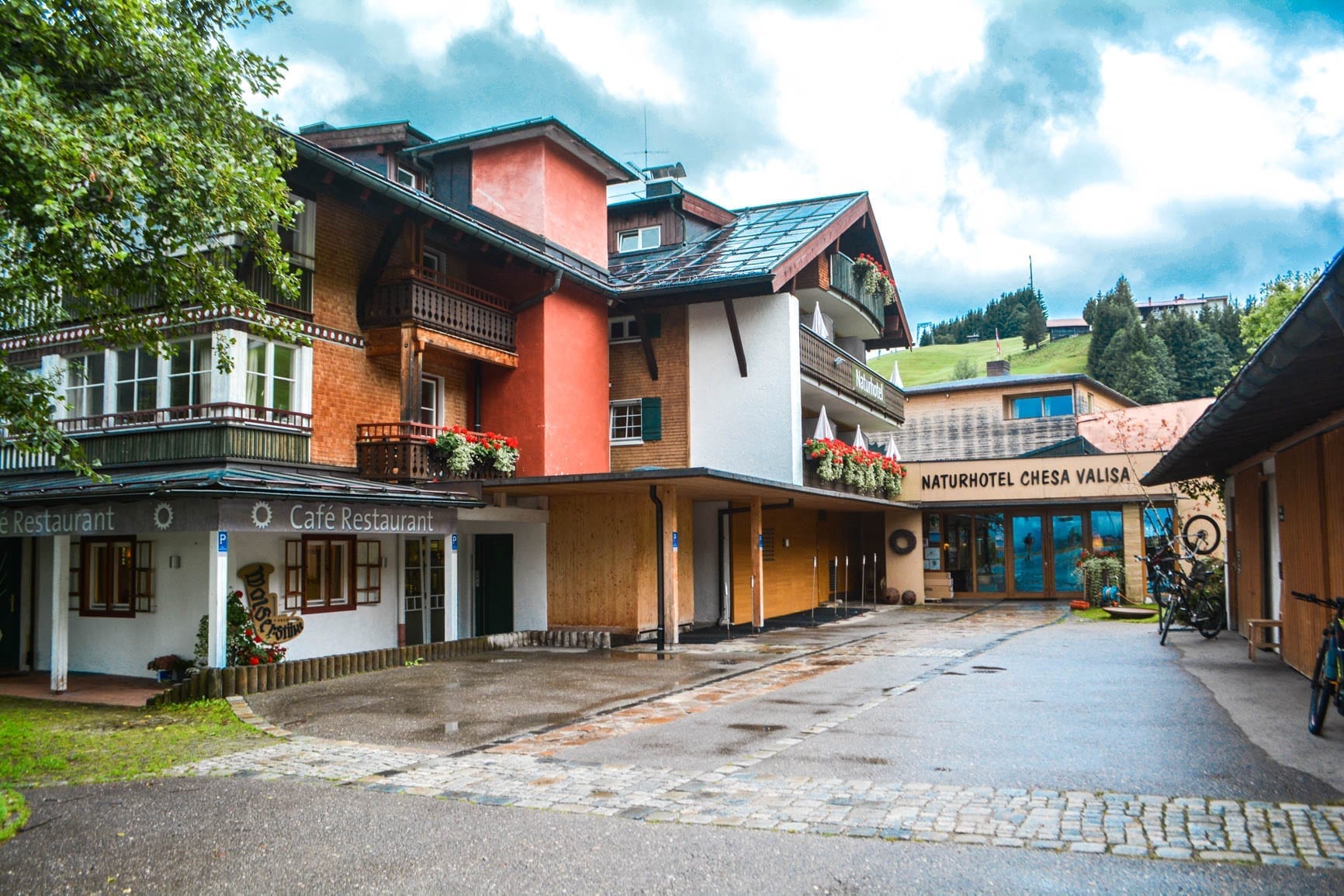 Depending on when you arrive, you might even have a chance to take advantage of the many spas and saunas that the hotels in the area offer. If you choose das Naturhotel, you're only a few steps away from relaxation.  

---

Saturday: Hiking through Kleinwalsertal
9:00am: Breakfast
Breakfast in Vorarlberg is quite delicious. Das Naturhotel has a huge selection of breakfast goodies as they offer a large buffet along with champagne and fresh juices. Many of the hotels in the area also offer some delicious local breakfast specialties.
10:30am: Kanzelwand Hike
Once you're up and ready to go, it's time for a morning hike up the Kanzelwand. Lucky for you, there is an aerial cart that brings you 20 minutes up the mountain and then drops you off at the top where you'll find numerous different hiking trails to explore. There are two smaller peaks up at the top in which take only a couple hours to hike up and down, this is what my partner and I did.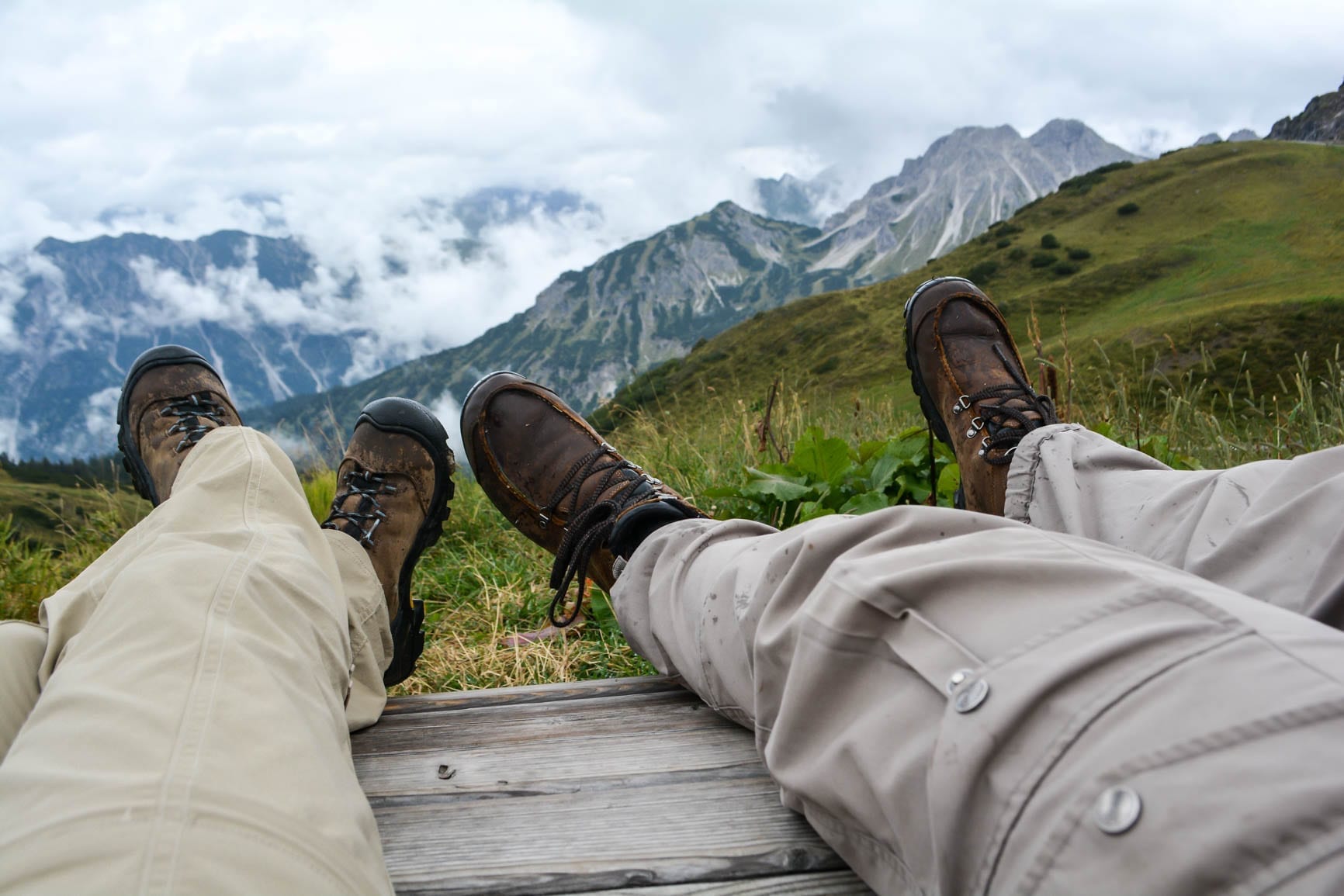 1:00pm: Coffee and Cake

On your way back down on the aerial cart, you'll be in the center of Kleinwalsertal town and find an array of local bakeries where you can stop in for a light lunch and a coffee or tea.
2:00pm: Walser Bus
Hop on Walser Bus line #1 to Oberstdorf and take the Walserschanz exit to hike down into the beautiful Breitachklamm Gorge. The hike will take you along the edges of the cliffs and offers incredible views into the Breitachklamm Gorge.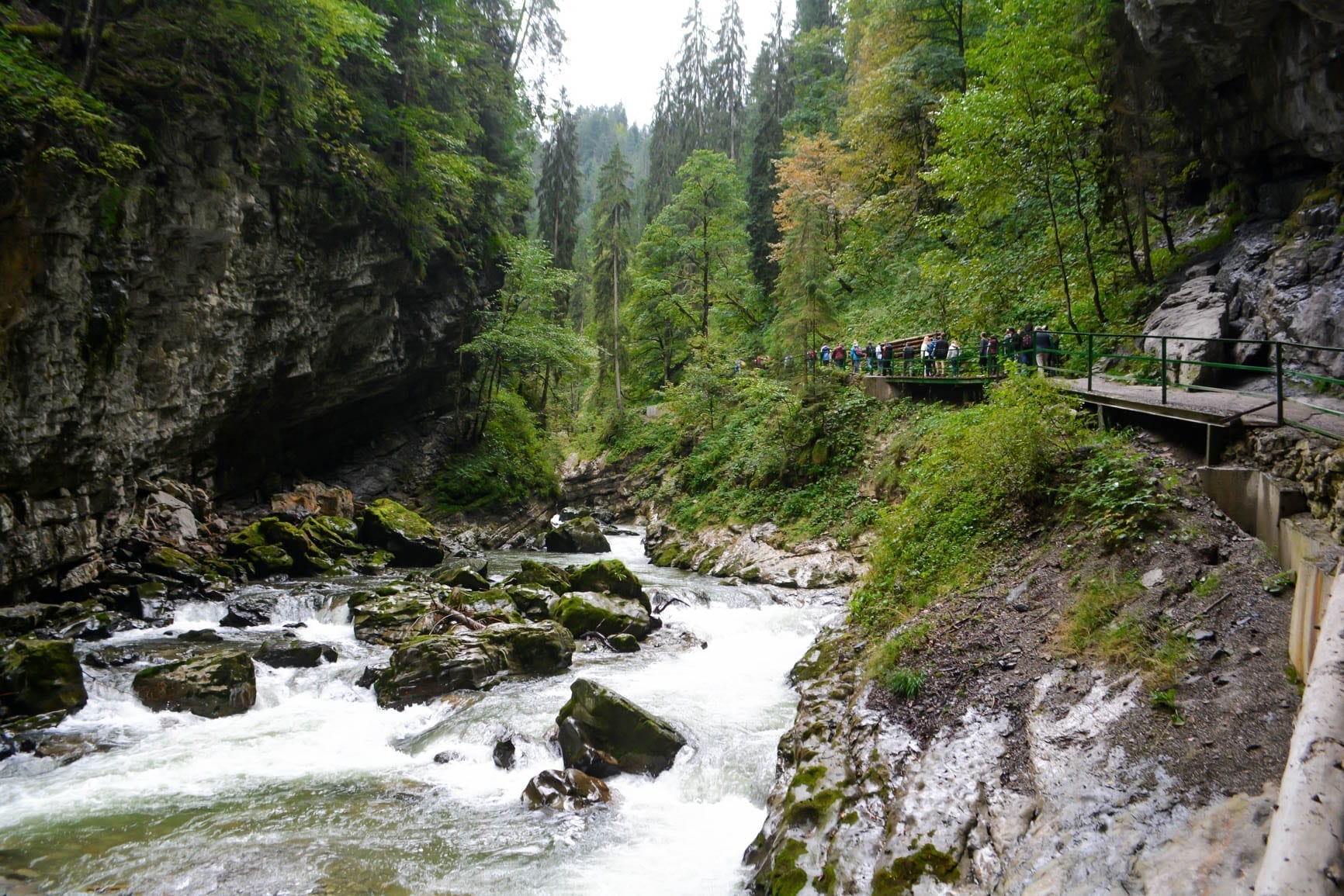 3:30pm: Oberstdorf 
You'll arrive at the end (in Germany) and have the option of hiking back the same way (free of charge) or hopping on another bus to go back into Austria while making a pit stop in Oberstdorf along the way.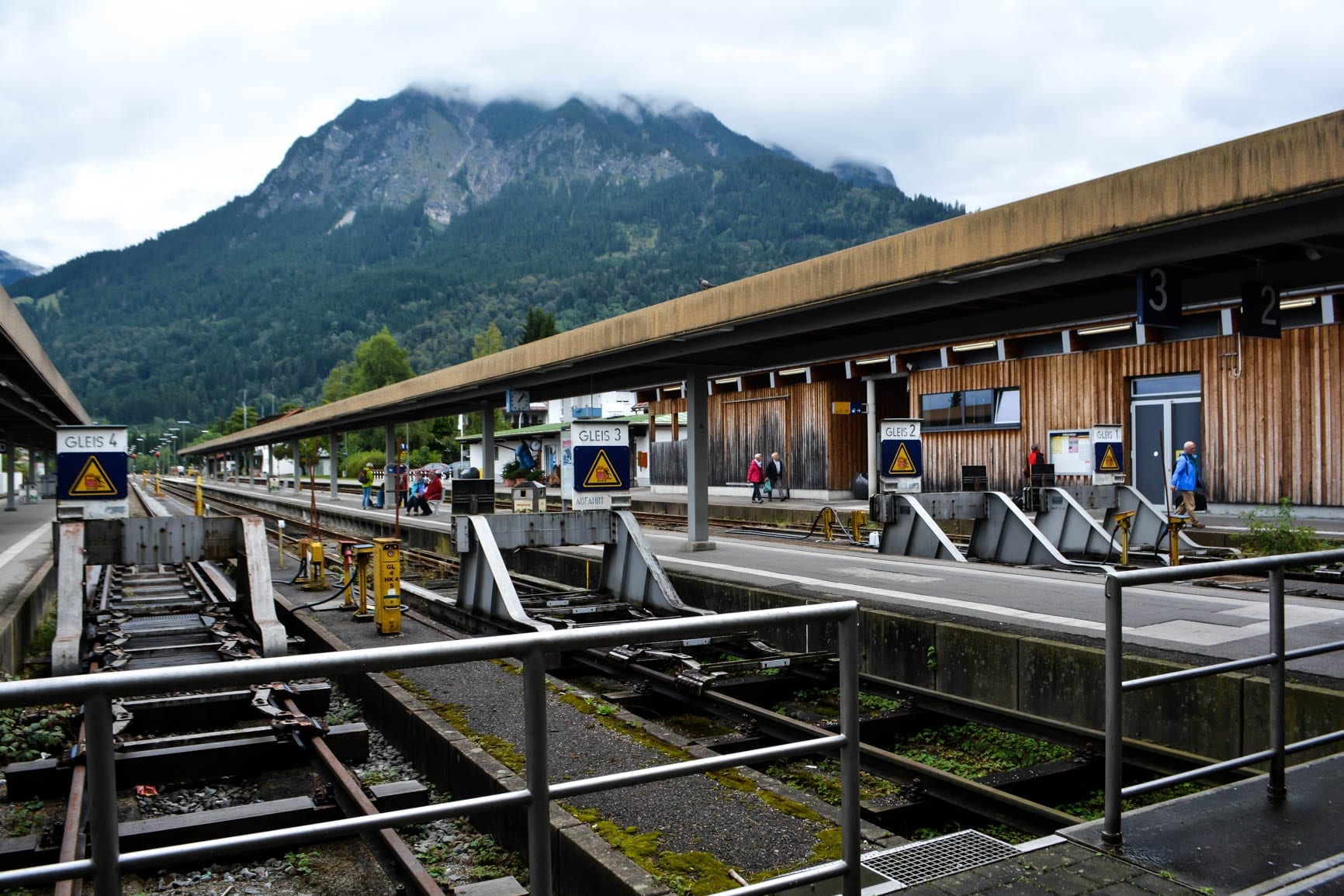 4:30pm: Head to Hittisau in the Bregenzerwald
If you haven't explored enough yet, spend a little longer in Kleinwalsertal. If you're strapped for time and really only have a weekend, then take the 45-minute drive into the Bregenzerwald in the small town of Hittisau.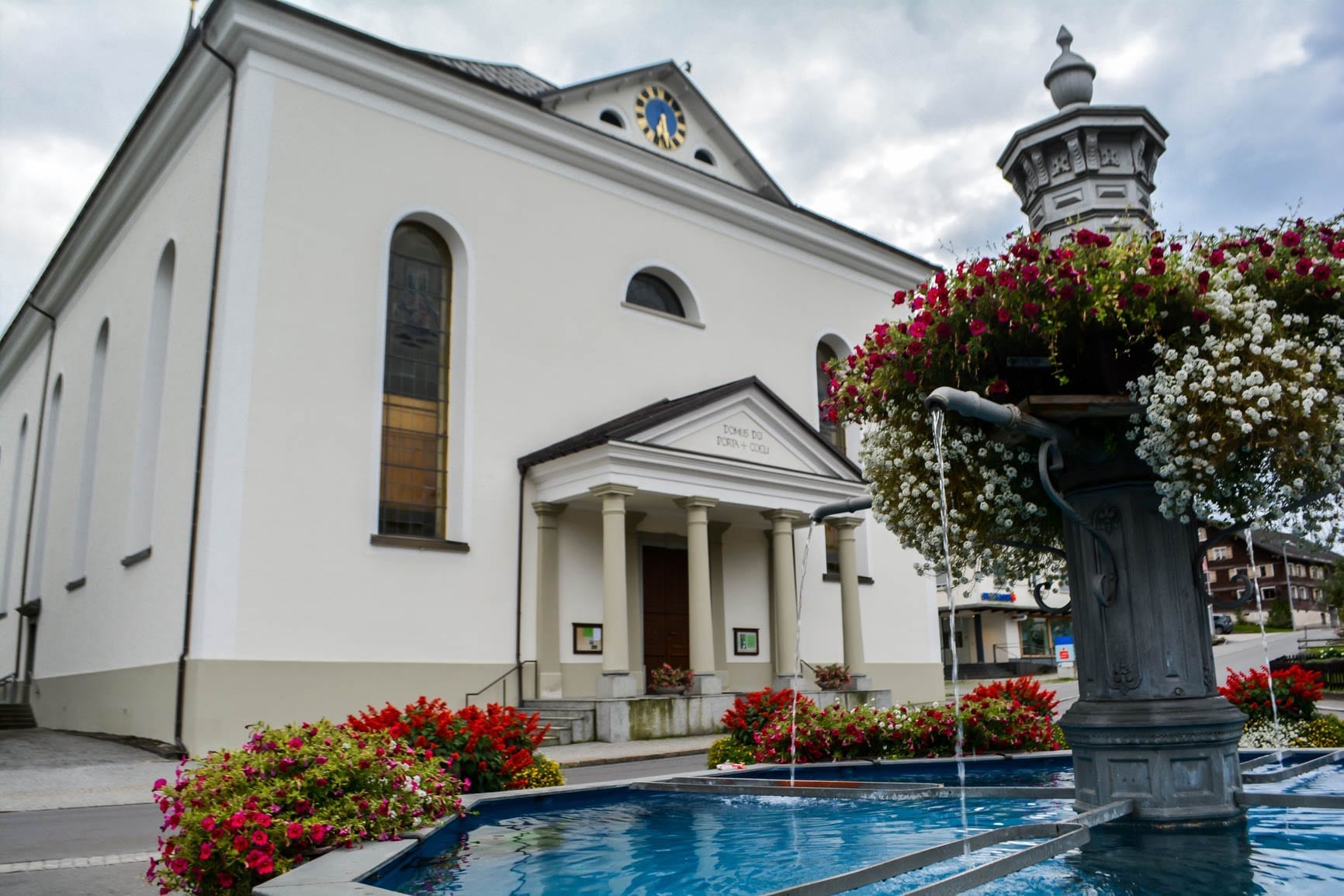 5:30pm: Arrive at Hotel Krone
We checked in at the Hotel Krone, a beautiful 175-year-old hotel, once a court of justice, offering breakfast, dinner and a warm and cozy fireplace room to relax, read a couple books and drink a cup of tea.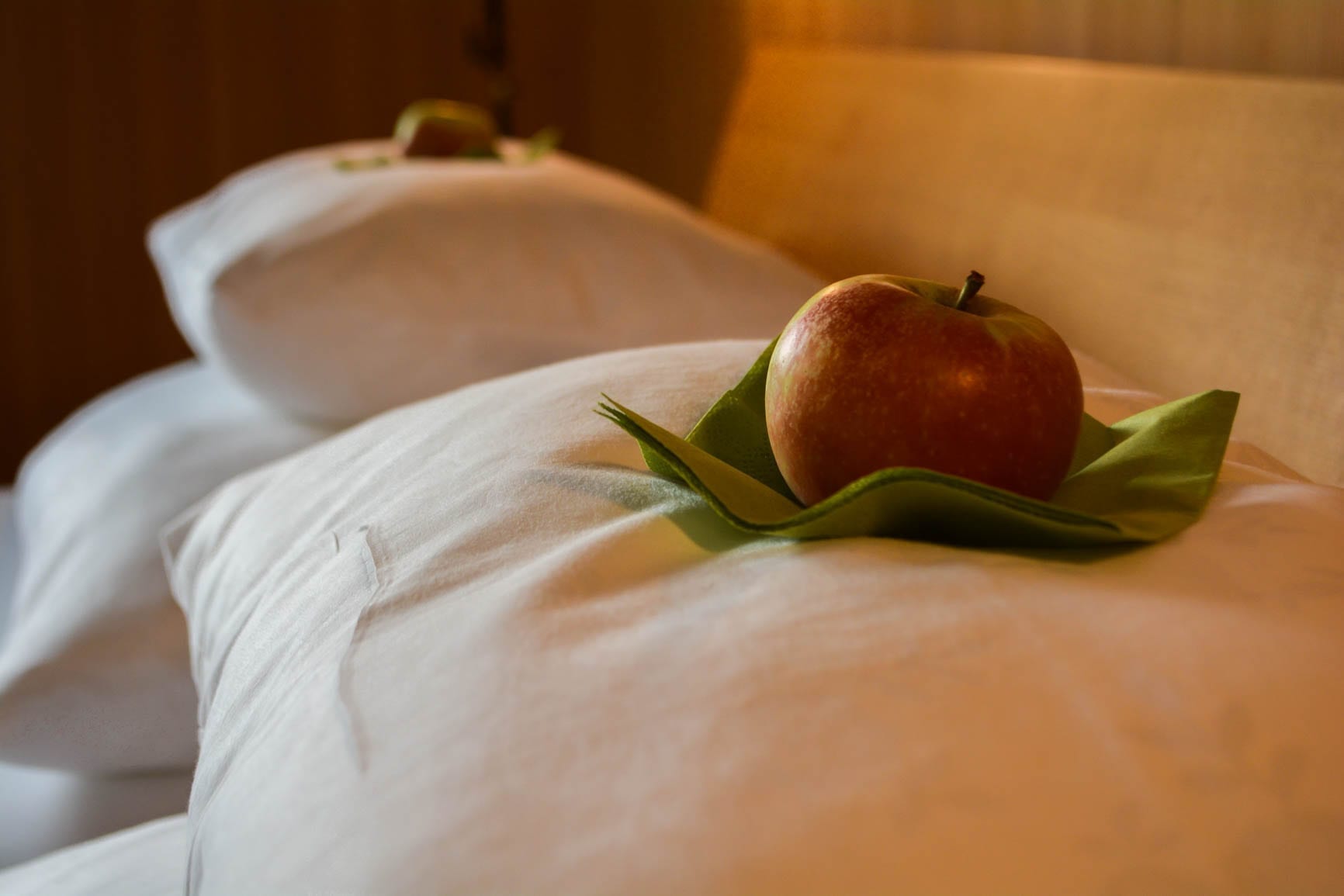 7:00pm: Dine at s'Ernele
Down the road and across the street (4-minute walk) is s'Ernele, located in the Romantik Hotel Das Schiff. While s'Ernele serves as more than just a restaurant (it's a small local grocer as well), the food is mouth watering delicious. Every dish made at s'Ernele is fresh and regional and always changing. Their products travel no further than a distance of 100 kilometers and their meat motto is to use everything from the nose to the tail.
---
Sunday: Tour Around Hittisau
9:00am: Breakfast
Enjoy another delicious local breakfast at the hotel or at a nearby bakery. If you're at the Hotel Krone, indulge in their scrumptious breakfast buffet.
10:00am: Water Hiking Trail
If you're ready to get out and start exploring again, the Hittisau Water Hiking Trail/Wasserwanderweg is the perfect place to start. It is a 1.5 – 2-hour hike along the river side of Hittisau. You'll walk past beautiful old architecturally built houses, cow fields with the cuddliest of cows and various viewpoints to enjoy the waters edge. You'll even pass by a hanging bridge and a couple water games while you're there.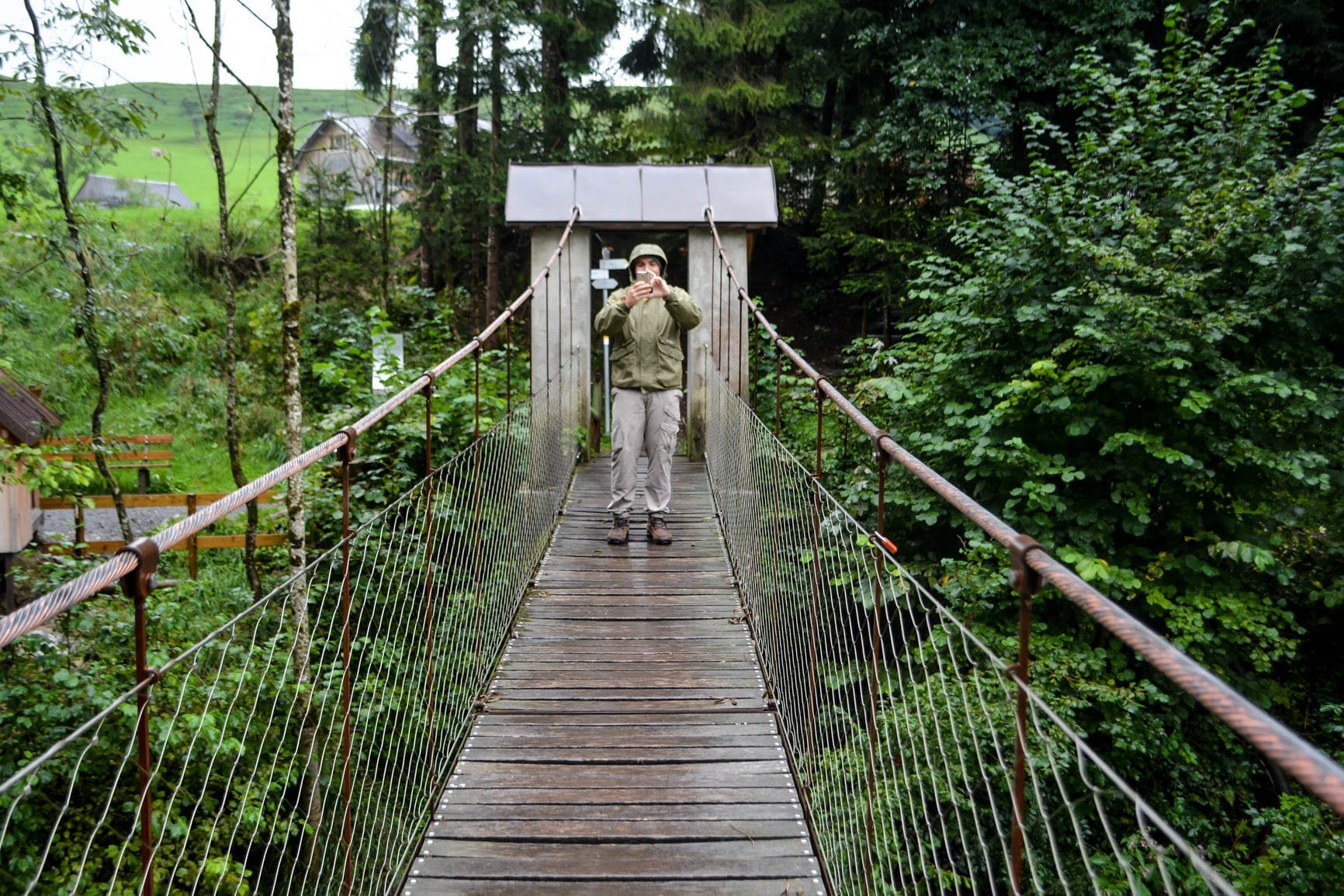 On the way back into the town of Hittisau, you'll pass by a couple of local handicraft shops and the grocery store Spar, this is where we grabbed our gifts to take home with us.
1:00pm: Adler Grossdorf Sunday Lunch
The Adler Grossdorf is just 15 minutes outside of Hittisau and is a special place even for the locals in the town. Once an old restaurant, Grossdorf 14 has reopened its doors for Sunday lunch. Every Sunday the host provides a new menu. You aren't able to pick and choose as this one menu is made special from the week's featured chefs.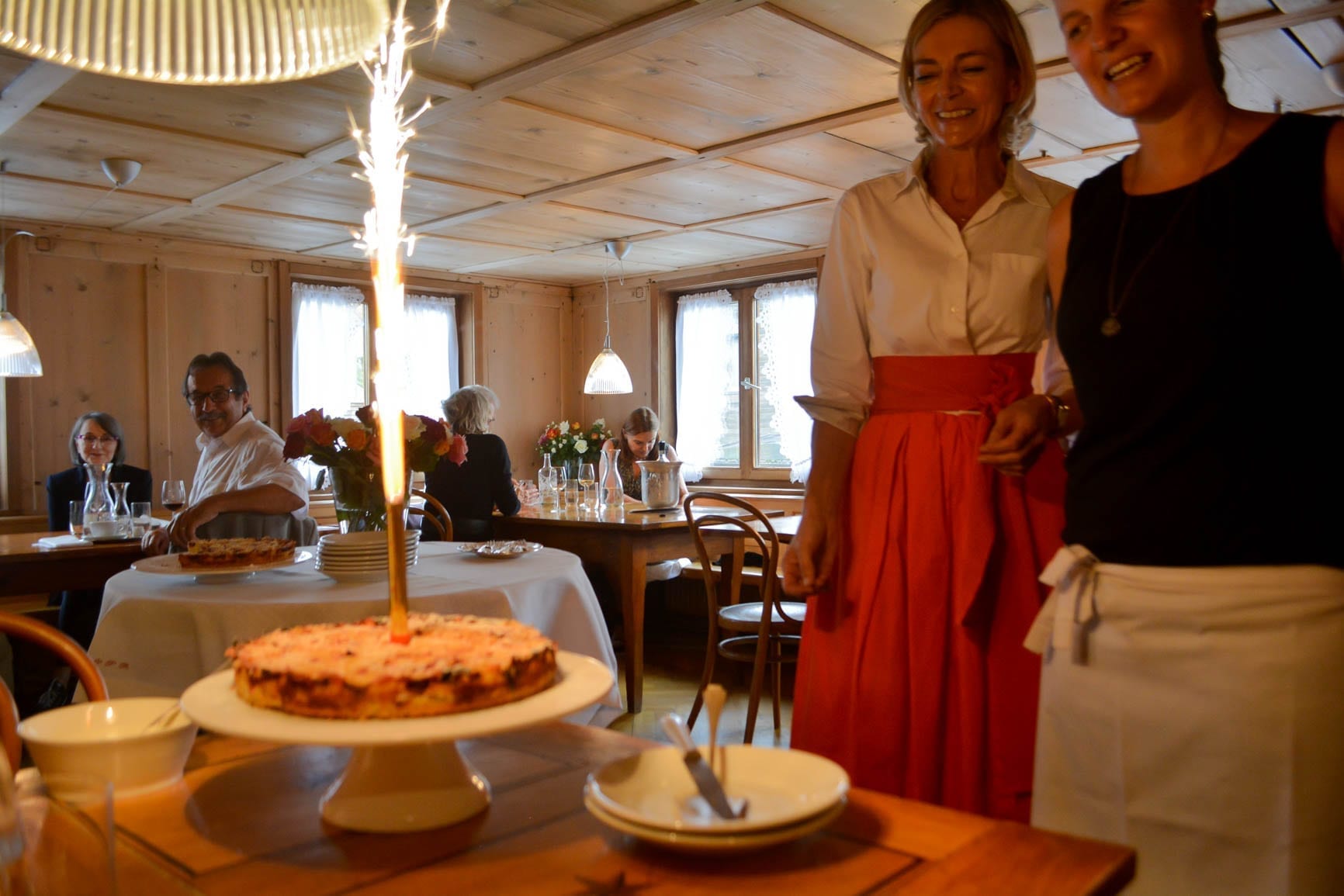 While I was there, they were serving up local specialties including beef broth, mushroom pancakes, cabbage, deer and a delicious plum cake with local cream.
3:00pm: Umgang Bregenzerwald
Head back into Hittisau and take the Umgang Tour through Hittisau.
The Umgang Bregenzerwald is a special route made up of 13 villages and 12 different routes. These are not just any routes, they have been carefully designed by locals to embrace the typical architecture in each area, the different landscapes and even local food and drink.

Hittisau is the last tour in the Umgang Bregenzerwald and takes you on a 2-hour tour of the town. You'll have an opportunity to check out the convention hall (the first timber building in Vorarlberg), the Women's Museum (oddly built in the small town of Hittisau) and a variety of other eye-catching buildings.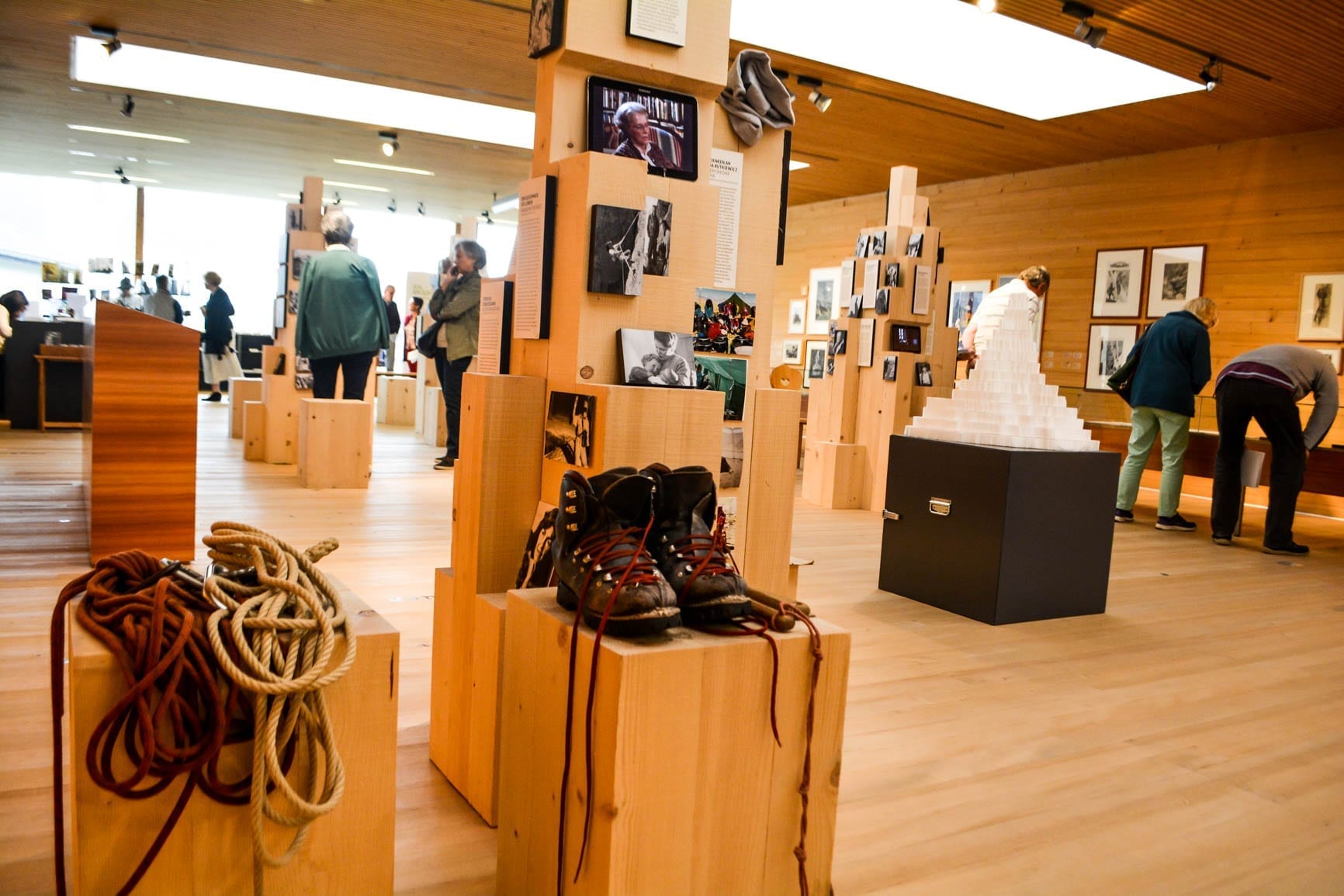 5:00pm: Relax by the Fire
I'm guessing you're ready for a little bit of rest and relaxation, so take the time to wind down, hop into the sauna or enjoy a warm cup of tea by the fire.
The Hotel Krone has a delicious 4-course meal, so be sure you head to dinner with an empty stomach!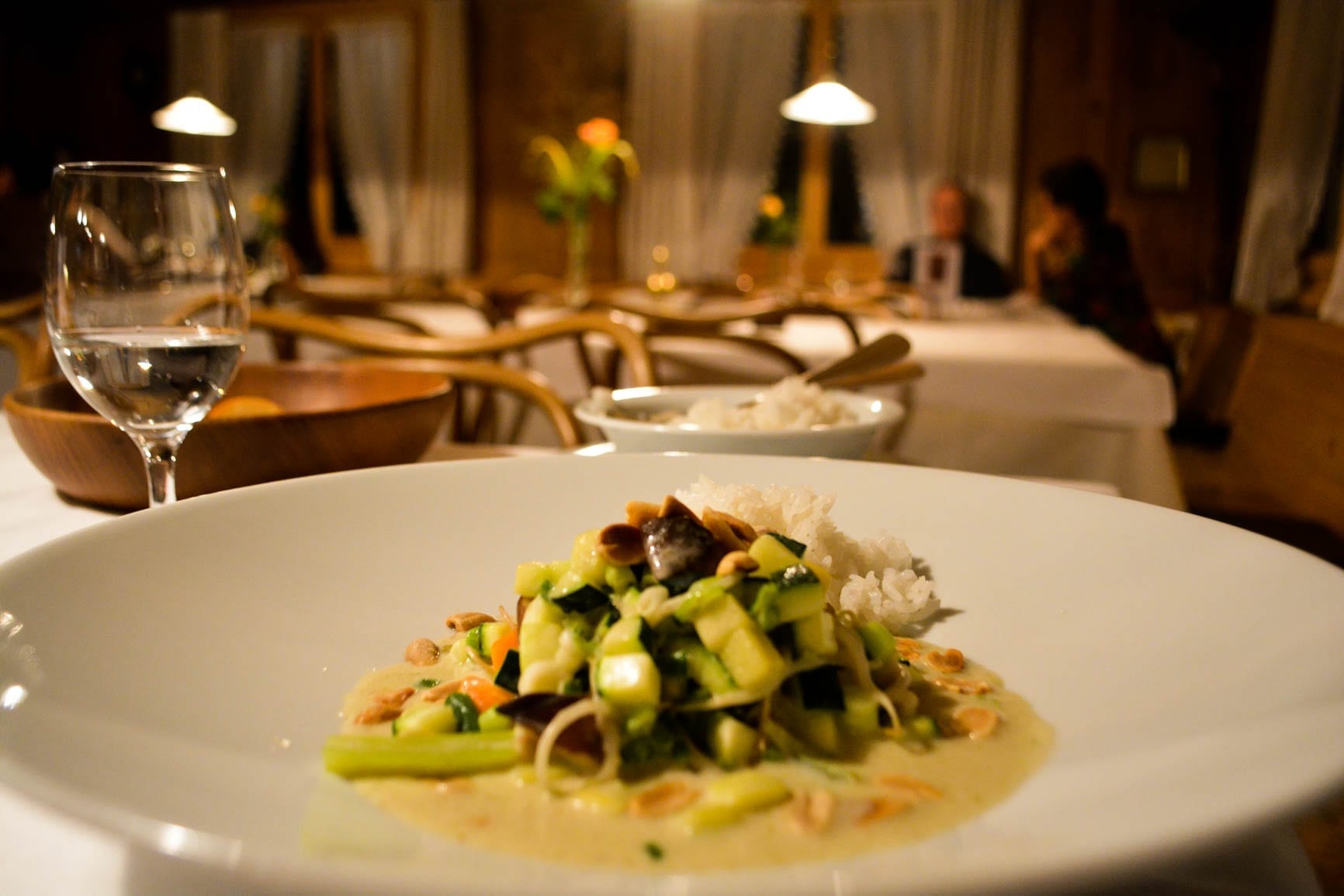 ---
Monday: Take in the last day
9:00am: Breakfast 
On your last day, grab a quick breakfast and try and spend a little more time exploring the area before it's time to head back to the airport and head home.
10:00am: Georunde
Visit the Georunde in Rindberg, Sibratsgfall. This is a circuit walk which allows travellers to understand and visualize the power of nature. In May of 1999, the mountain slopes in Rindberg started sliding down hill. The Georunde takes visitors through 9 different stations where you can see and experience the effects first hand. You'll be able to enter Felber's crooked house which slid 18 meters and is now uninhabitable but stands today as an exhibition about the town slide.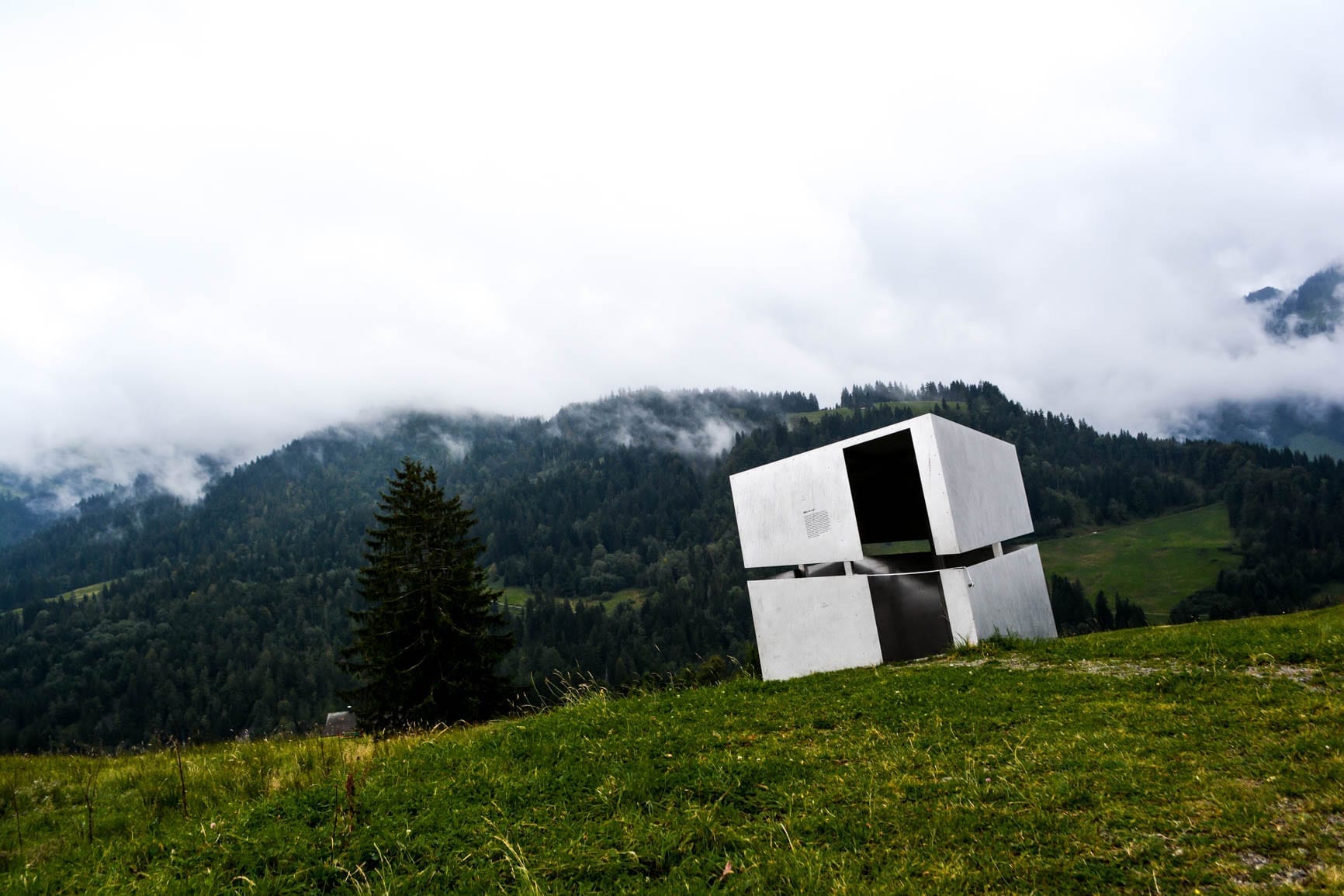 They call Sibratsgfall, the village in motion (quite literally), as some of the homes slid up to 180 meters into the valley and were inevitably destroyed.
12:00pm: Coffee and Cake
Enjoy a coffee and light lunch at the Hirschen, just down the hill in Sibratsgfall and then head onward to the airport.
1:00pm: Project BUS:STOP Krumbach
On route, try to make a stop in the small town of Krumbach where you'll find 7 different bus stops, each designed by a different international architect. These bus stops are just one of the reasons the natural region of Vorarlberg is present as one of the world's leading destinations for architecture.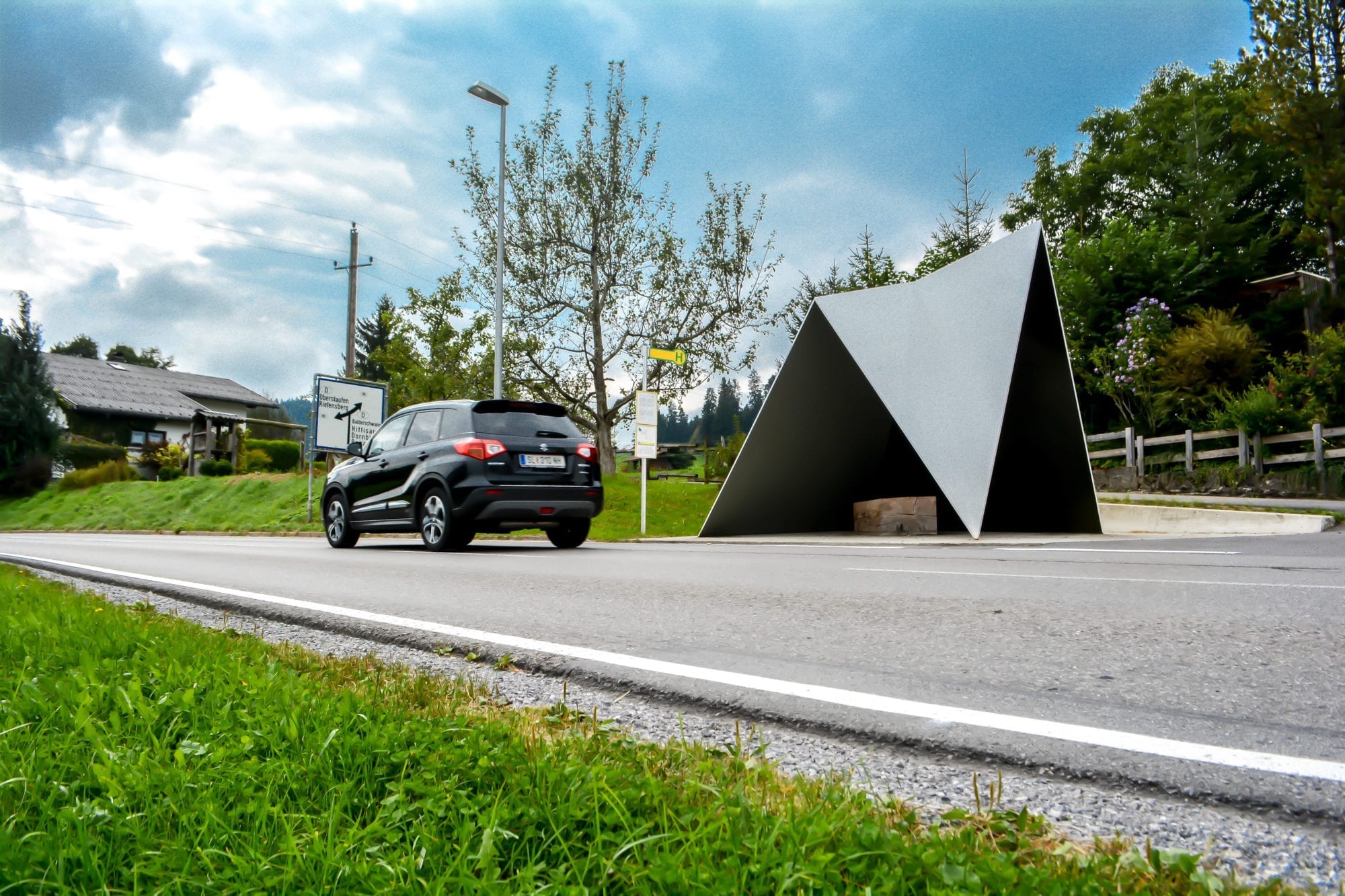 3:00pm: Auf Wiedersehen! 
This is usually a good time to arrive back at the airport. If you've headed to Krumbach, you're now closer to the Zurich Airport and should depart from there.
There are so many other wonderful things to do and explore in Vorarlberg. We were only there for a short 4 days, but cannot wait to go back again and explore the entire Umgang Bregenzerwald tour.
If you're looking for more tips on where to go and what to do, visit the Vorarlberg Tourism website. They have an English website here: Austria Holidays.
---
Do you have more questions about living #LifeInDüsseldorf? Feel free to send us an email with your question at hello@lifeinduesseldorf.com. If you have tips you'd like to share with others, we're also accepting guest posts which include the author's name, bio and photo. 
Looking for some more tips? Join our group of community explorers and register for our monthly newsletter (packed with the hottest events, seasonal activities, upcoming job opportunities and more)!