Weekend Getaway: Roaming the Middle Rhine Valley Castles
If you're looking for castles in Germany, the Middle Rhine Valley is the place to be. You'll find more than a dozen stunning castles in less than an hours drive.
The Middle Rhine Valley is what is considered to be the Rhine waters between Bonn, Germany and Bingen, Germany. This specific area of the Rhine is particularly special because of the valley. Unlike other parts of the Rhine River, the Middle Rhine was affected by an erosion which caused the river to remain level and the remaining grounds to erode into a valley. At certain points along the Middle Rhine Valley, you will find points that drop to more than 400 feet.
The top half of the Middle Rhine Valley between Koblenz and Bingen is a UNESCO World Heritage Site and home to more than 40 castles which sit above the vineyards of the Middle Rhine.
This blog post may include an affiliate link or two. Our partners have been hand-selected based on brands and services that we personally use. If we make a few extra Euros, we invest the earnings into building the platform to bring you better content and more amazing opportunities.
If you're travelling from Düsseldorf, I would recommend you drive the highway until you reach Koblenz or Boppard (avoiding traffic in Cologne) and then start your Rhine River route from there.
Depending on how long you would like to spend driving the Middle Rhine Valley, you can drive it in a day, or you can spend a long weekend exploring the sites and sounds.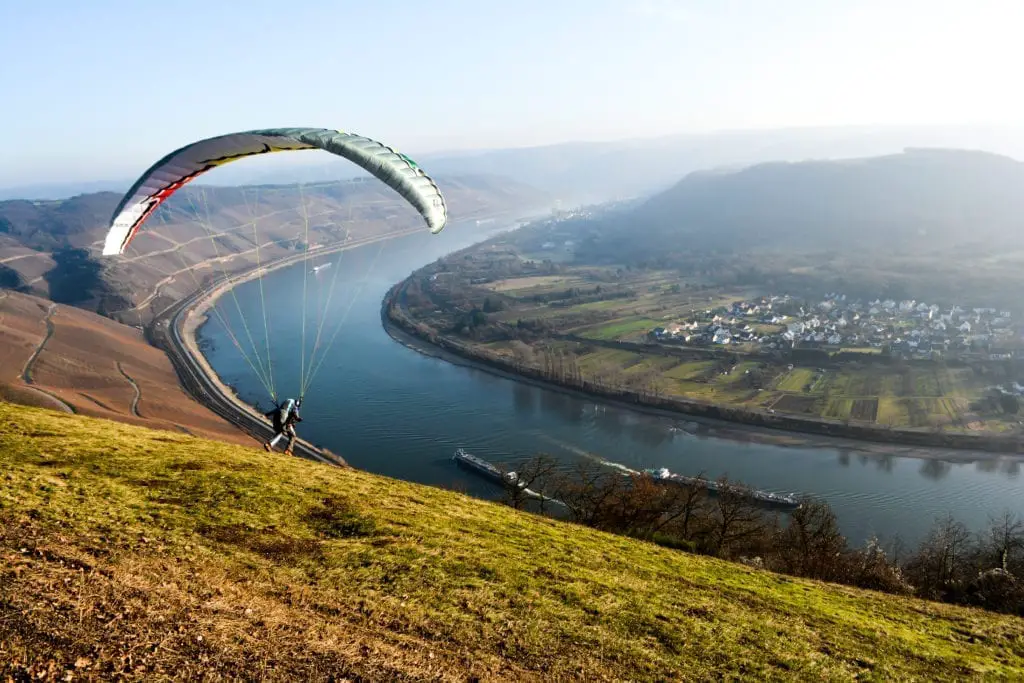 Vierseenblick in Boppard
From Düsseldorf to Bingen (along the water) will take you about 2 hours and 45 minutes (200 kilometres). If you're interested in driving back on the other side of the Rhine, you can cross the bridge over to Wiesbaden and back up. The entire trip will take you about 7 hours, driving 500 kilometres (or you can simply turn around and drive the same way back).
Interested in spending a few nights along the Middle Rhine Valley?
Here are a few town recommendations that you might enjoy:
If you've got a bit more time, head from Wiesbaden along the German Half-Timbered House Road instead.
I've put together another blog post sharing the best of the German Half-Timbered House Road that is close enough to home.
Explore 3,000 Kilometres of Timbered Houses in Germany
Still looking for some inspiration along the Middle Rhine Valley? 
Here are just a few of the castles that we were able to capture along the way!
---
Looking for some more romantic getaways that include castles and valleys? Consider exploring the castles along the Mosel Valley! 
Do you have more questions about living #LifeInDüsseldorf? Feel free to send us an email with your question at hello@lifeinduesseldorf.com. If you have tips you'd like to share with others, we're also accepting guest posts which include the author's name, bio and photo. 
Looking for some more tips? Join our group of community explorers and register for our monthly newsletter (packed with the hottest events, seasonal activities, upcoming job opportunities and more)!