Weekend Getaway: Discover Munich from a Local Perspective
Munich all too often becomes synonymous with Oktoberfest. However, Bavaria's capital city has so much more to offer than just beer! (Although, the beer here is really incredible!) As Germany's third largest city, behind Berlin and Hamburg, Munich is rich in history and culture. Known as the gateway to the Alps, Munich combines the cosmopolitan lifestyle with nature in a way that makes this city particularly exciting. Whether you are into Museum hopping, historical sightseeing, shopping, dining, or just relaxing in the beer gardens, Munich literally has something for everyone.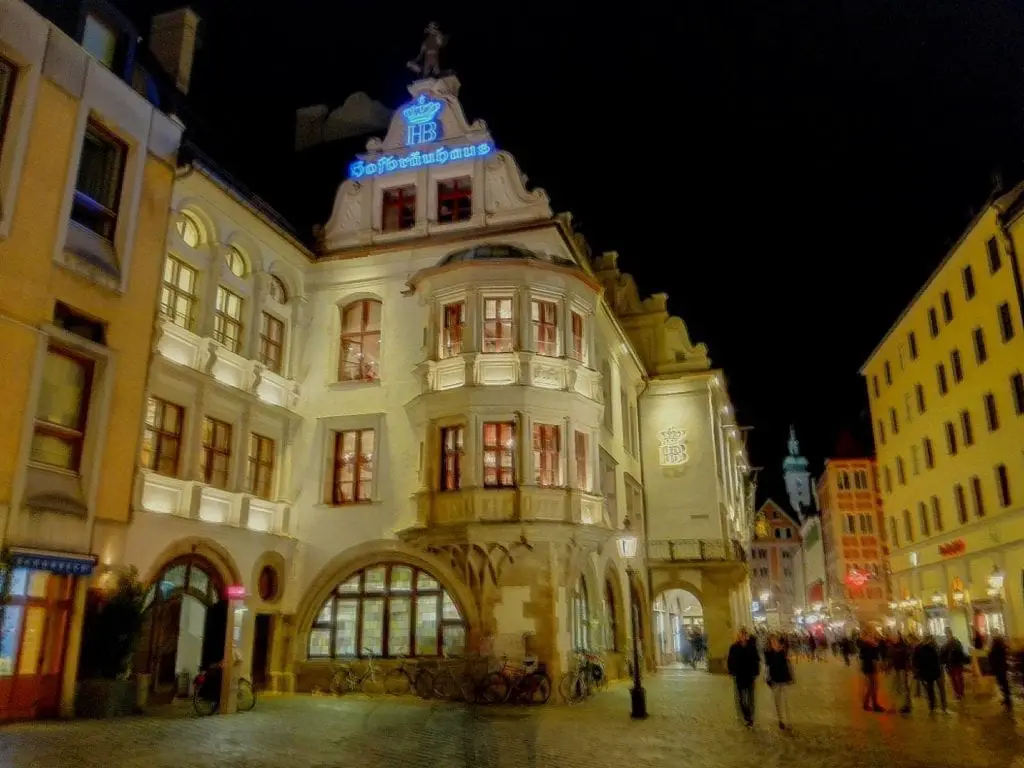 This blog post may include an affiliate link or two. Our partners have been hand-selected based on brands and services that we personally use. If we make a few extra Euros, we invest the earnings into building the platform to bring you better content and more amazing opportunities.
A weekend getaway in Munich is definitely doable and we aim to provide you with some insider tips and inspiration for your next trip!
How to get there
To get to from Düsseldorf to Munich there are a few options, depending on how you like to travel and budget.
By direct ICE train and get there in about 5 hours
Drive your own car or join a car sharing program (like BlaBlaCar) and get there in about 5.5 hours

You can fly there in about 1 hour! (there are flights leaving constantly from MUC to DUS)

FLIXBUS

is a budget-friendly option from MUC to DUS with direct routes and rates as low as 40 Euros round trip. Tip: expect the direct journey to be 9 + hours.
Travel within Munich is easy and fast thanks to the fantastic public transit system. Download this app before arriving and you will be prepared to explore the city.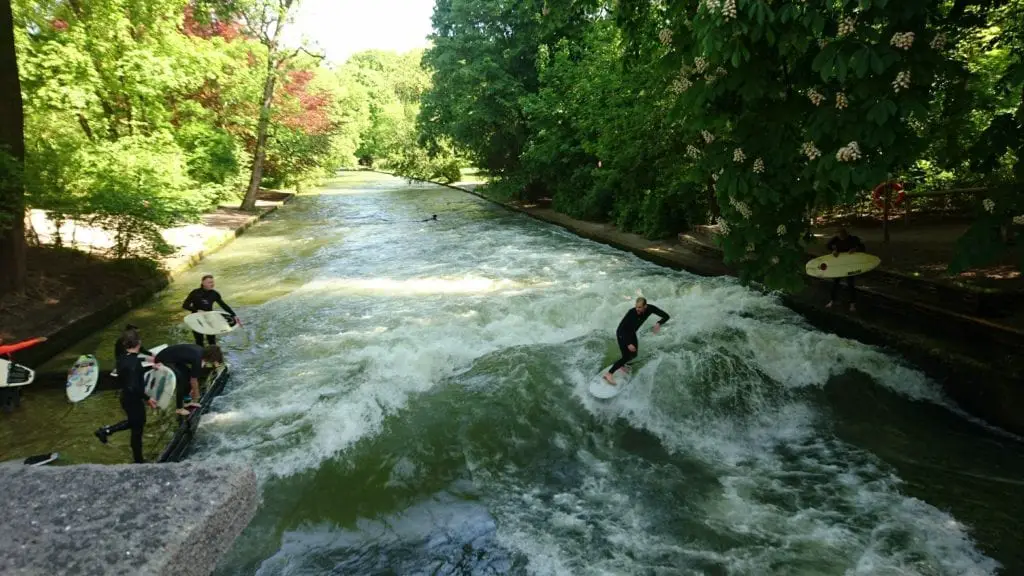 Best Things to Do in Munich
1. Get to Know Munich's Altstadt
Munich's city center, or Altstadt, is rich in history and has so many beautiful sights to see. Of course, many of them are centered around the old town. We recommend starting out your visit by taking a free walking tour through the city with Sandemans Tours. This is the perfect way to hit many of Munich's gems such as Marienplatz, Viktualienmarkt, Frauenkirche, the Old and New Rathaus all in one go. Then stop in for a refreshing beer at the famous Hofbrauhaus or grab a coffee at Cafe Glockenspiel and watch the figurines of the Rathaus Glockenspiel (Town Hall Carillón) tell their tale. See it daily at 11:00 a.m., 12:00 p.m., and 5:00 p.m. (the 5:00 p.m. runs from March – October).
2. Discover Munich's Coolest Neighborhoods
Head on over to the Maxvorstadt neighborhood, where the LMU University is located. Young and hip, this area of Munich houses some of the coolest shops, cafes, and bars.
Keep heading north and you will come to one of Munich's chic neighborhoods, Schwabing.
Fantastic boutique shopping and fabulous restaurants are on every corner. But if you are not into shopping, no problem. Access the Englischer Garten from Schwabing, and stroll through one of Europe's largest and coolest city parks.
Where else can you see surfers "hang 10" in a river, right in the middle of a city?
Haidhausen, AKA Munich's French quarter, is located east of the city center.  This neighborhood boasts a great nightlife scene with bars and clubs, along with shopping and fabulous eateries.
3. Visit Munich's Top Museums & Royal Residences
Munich is home to over 80 museums.  A bit overwhelming when you are planning a weekend getaway. But to help narrow it down, we can recommend the following: BMW Welt, Deutsches Museum, Alte & Neu Pinakothek. For more details on Museums in Munich click here.  
Interested in visiting Castles and Royal Residences within Munich's city limits?  Find out more here.
4. Explore Beyond Munich
If you are in the mood to venture out of the city and explore the beautiful areas surrounding Munich, we can recommend three easy day trips:
Get in touch with nature and discover some of Bavaria's beautiful countryside, between Munich and the Alps.  Visit the

5 Lake Region

, only a 30-minute S Bahn ride away!

Another easy day trip is a visit to Dachau. This town is well known for the first German concentration camp, however, there is so much more to see and do! Check out our own blog post on Dachau here for more details.
Want to see one of the most famous Castles in Europe? How about a day trip to Neuschwanstein. We recommend utilizing a guided group tour such as this. This will take out much of the 'guess work' on how to get there and what to expect.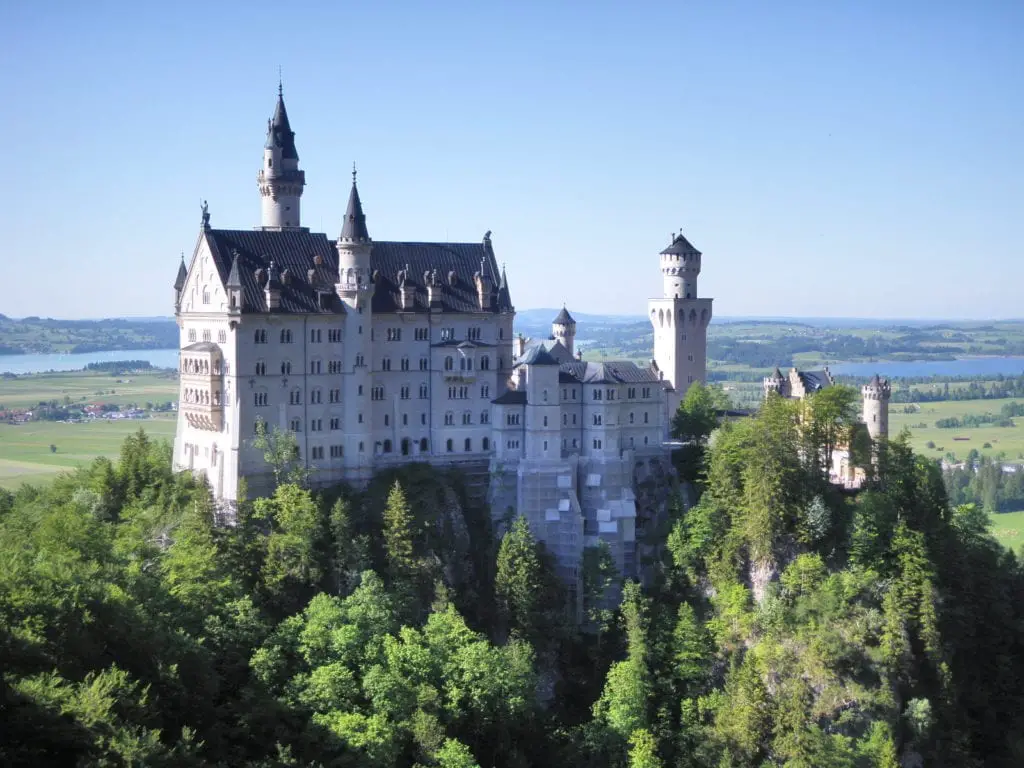 Best Places to Eat in Munich
Breakfast at Weisses Bräuhaus

for a typical Bavarian breakfast, including the infamous Weisswurst and beer!  Located in the heart of

Munich's Altstadt

, you can quickly access your next points of interest after filling up on your first meal of the day!


Other Top Picks for Breakfast: For Vegan and Veggie Breakfast options check out Cotidiano, & Cafe Jasmine


Lunch at Nero Pizza – location is near Altstadt, with divine pizzas and grilled specialties, Nero Pizza will hit the spot after a busy morning of sightseeing! There are also many vegetarian options on the menu as well.


Other Top Picks for Lunch: For Vegan, Gluten-Free Menu options check out our favorite SIGGIS & for a place with historical ambiance check out the Ratskeller

Dinner at Theresa Grill – After a long day of Museum visits, make sure to book your reservation here for superb grilled meat specialties and a hip ambiance. Location is close to many of the fabulous museums in the area.


Other Top Picks for Dinner: For Vegan and Vegetarian Menu Options check out the outstanding Tian, & for a cool and trendy dinner/night out, try Rocca Riviera
Coolest Places to Stay in Munich
There are so many fantastic hotels in Munich. With last minute deals found on booking.com or vacation rentals and/or room rentals on holidu.com, one is bound to find a place that matches every style and budget. However, to guarantee a fabulous stay that is centrally located, and perfect for a weekend getaway, we can recommend the following:
The Lovelace Pop-Up Hotel

–  a unique and cool, modern pop-up concept hotel that just opened in 2017 and will remain open until 2019. Centrally located downtown in the Altstadt, hosting nightly events for guests and the public. This is the spot to be in Munich!
25hours Hotel The Royal Bavarian

– one of Munich's newest hotels, located next to Munich's central station. The Royal Bavarian offers some amazing amenities. For example, rooms with UE Boom Bluetooth speakers, bikes to explore the city or even the opportunity to rent a MINI.
Kings Hotel City Stay

– a great self-catering option for long term or short stays. Also, ideally located near Munich's central station. Modern and sustainable, the hotel uses environmentally-friendly materials, paints, and woods in all the apartments.

With so much to see and do, we know that another trip back is necessary to soak up all that Munich has to offer. In the meantime, here are a few more useful posts that may come in handy when planning your next weekend Getaway to Munich! –Must Have Apps, Our Top Vegan Restaurants and Cafes, Cafes in Munich
We would love to hear from you!  Please feel free to contact us directly for any further recommendations at info@citystarlings.com.
---
Do you have questions about living #LifeInDüsseldorf? Feel free to send us an email with your question at hello@lifeinduesseldorf.com. If you have tips you'd like to share with others, we're also accepting guest posts which include the author's name, bio, and photo.
Looking for some more tips? Join our group of community explorers and register for our monthly newsletter (packed with the hottest events, seasonal activities, upcoming job opportunities and more)!