Weekend Getaway: The Forests of Lipperland
Hidden away from the throngs of tourists that descend on Southern Germany is the region known as Lipperland in North Rhine-Westphalia. A two-hour drive (203 km) northeast of Dusseldorf, it's a fantastic idea for a relaxing weekend getaway.
Marie Hentschel, blogger at Everything is in German and the author of this post, is here to share all of the wonderful things to see and do while visiting Lipperland.
---
The principality of Lippe includes many little towns that run all the way to the south of the Teutoburger Forest. The little towns are a bit spread out but in most cases only a 20-minute scenic drive from one another. Each town has its own unique story of witches, warriors, and royalty. We've highlighted some unique spots in the area for you to plot out the perfect country weekend.
Detmold
Somewhat at the centre of the region is Detmold. With a history dating back to Charlemagne, the inner city has maintained a lot of its charm. You can tour the Palace where at least one of the Lippe Royalty is still in residence or the Regional Museum of Lipperland (Lippisches Landesmuseum). A great spot to visit with kids in nice weather is Des Freilichtmuseum or open-air museum where you can walk around and experience farms and homes as they were in the past.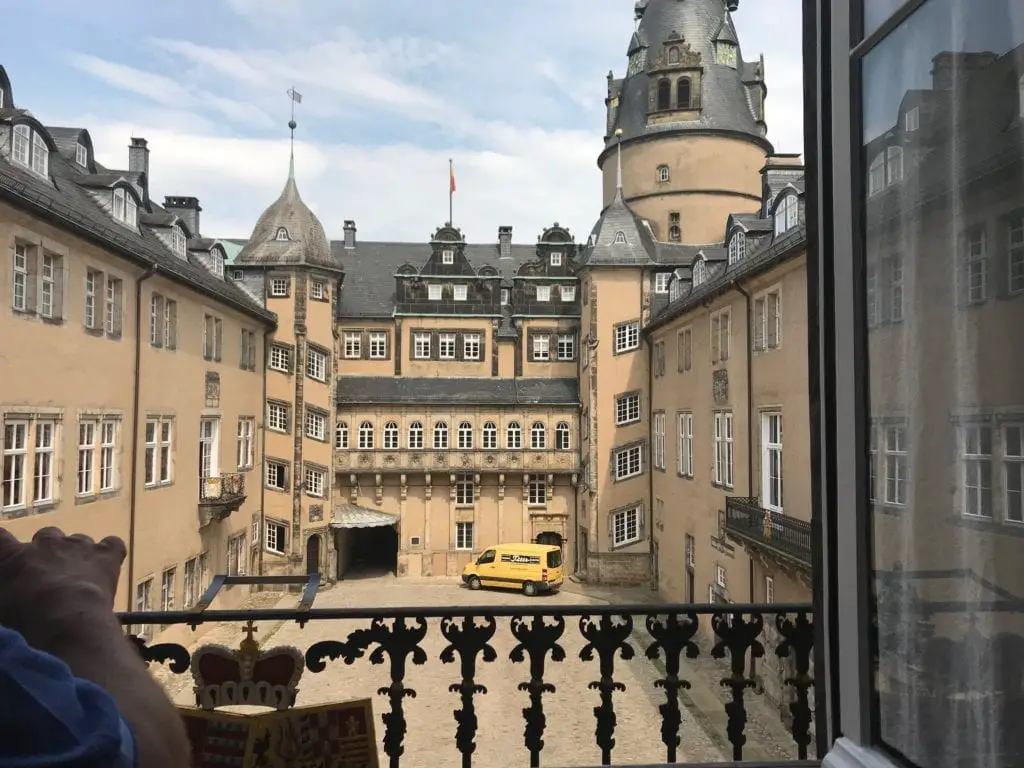 Hermanns Denkmal
If you don't get your fill of high climbs at Externsteine you can drive over to Hermanns Denkmal, built in memory of the Battle of Teutoburger, and make the 55 meters climb up the statue for a fabulous view of the entire region. Along the footpath, to the statue, there is also a ropes course/Klettern park in the woods. Additional fees will apply for the Klettern park as it is run by an outside vendor. For the more athletically inclined, there is a trail system that leads from Hermanns statue to the restaurant/beer garden, Bienenschmidt. (10 km via Hermannsweg)
Hermann's Denkmal: Grotenburg 50, 32760 Detmold
Externsteine
The jewel of Lipperland for many people is Externsteine. It's a monolith collection of rocks that reach up to 37.5 meters high and has been dated to back to B.C. You can still climb up some areas of Externstein and get unbelievable views of the tiny cave enclosures and panoramic views of the Teutoberger Woods.  It's surrounded by wooded hiking trails, great picnic spots, and a small picturesque lake. Because you can never be too far from coffee and cake in Germany, there is a cafe/restaurant near the entrance.
Externsteine: Infozentrum Externsteine Externsteine Straße 35, 32805 Horn-Bad Meinberg
Badsalzsuflen
If you need some relaxation from walking through the Teutoberger woods and climbing Externstein, take a break in Badsalzsuflen. Known for its natural collection of salt, they have great spas. One, in particular, Vita-Sol, is affordable, family friendly and has an outdoor heated pool. The heated outdoor pool is particularly lovely on a cold night, you can watch the stars and enjoy the whirlpool effects as luxurious steam rises off the water. Or take a break by sitting in front of the Thermal Installations (Bad Salzufler Gradierwerke), a fascinating collection of tall panels of Blackthorn branches with saline running through the installations. The panels have been described as open-air inhalers. You'll see many locals sitting in front of the installation breathing in the salty air. On a hot summer day, you will immediately sense an cool sea breeze coming off the panels. For children there is a large park not far from the installations with a garden maze, in summer there should be a shuttle located not far from the visitor's centre.
Spa guest center and tourist info: Parkstrasse 20 D-32105 Bad Salzuflen
Vita Sol:Extersche Str. 42, 32105 Bad Salzuflen
Eagle Park Berlebeck
Not to be missed is the Eagle Park that is housed high above the area called Berlebeck. It's a healthy hike up to the top but there is a back driveway for those with accessibility needs.  Find out the time for the daily shows so you can see the eagles flying free over the mountains during the free flight demonstrations. (This stop would work nicely with a visit to Hermann's Denkmal)
Adlerwarte Berlebeck: Adlerweg 13, 32760 Detmold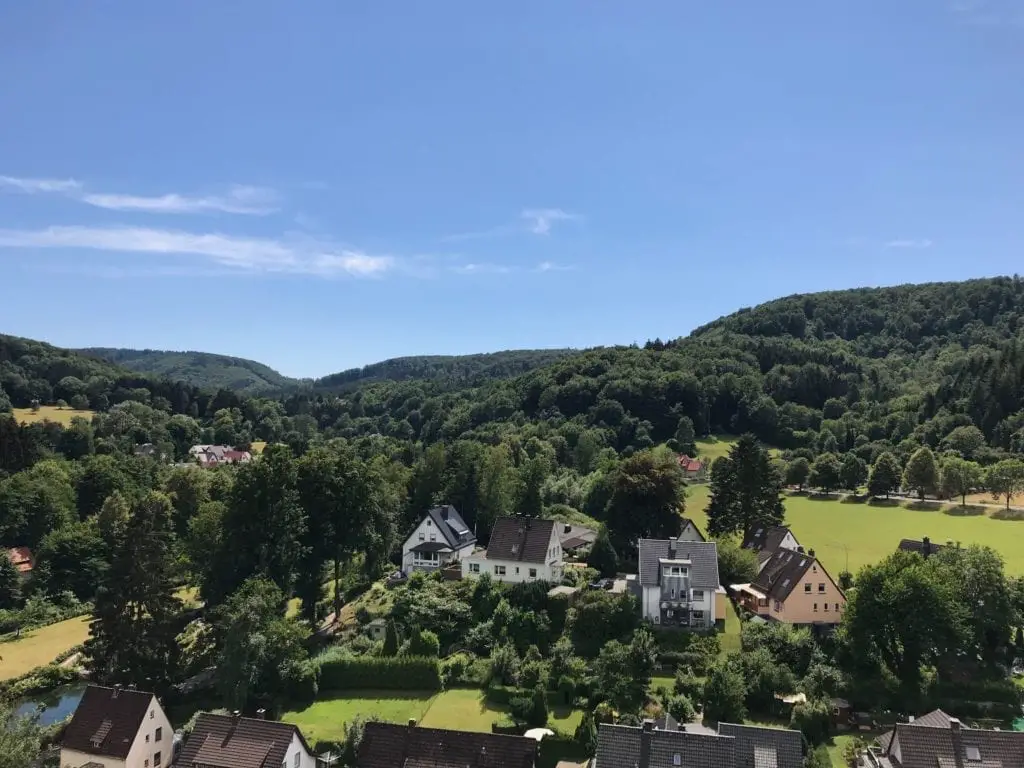 Lemgo
Right next to the town of Detmold is Lemgo. Known for its well-preserved buildings and Wesser Renaissance style, this town will be interesting for architecture lovers. Or those who have a craving for the macabre may be interested in the original witch torture chamber which still exists in the city museum in the witch exhibit. (Hexenburgermeisterhaus)
Witch museum: Breite Str. 19, 32657 Lemgo
Falkenburg
Another area to explore in Berlebeck is the old castle ruins of Falkenburg. It was for many years a hiking spot for locals but in 2004 workers began to unearth a larger system of castle ruins underneath the dirt and they are still excavating to this day. You can park at the cafe below and hike up, the website does, however, ask that visitors schedule a tour for a nominal fee for safety reasons.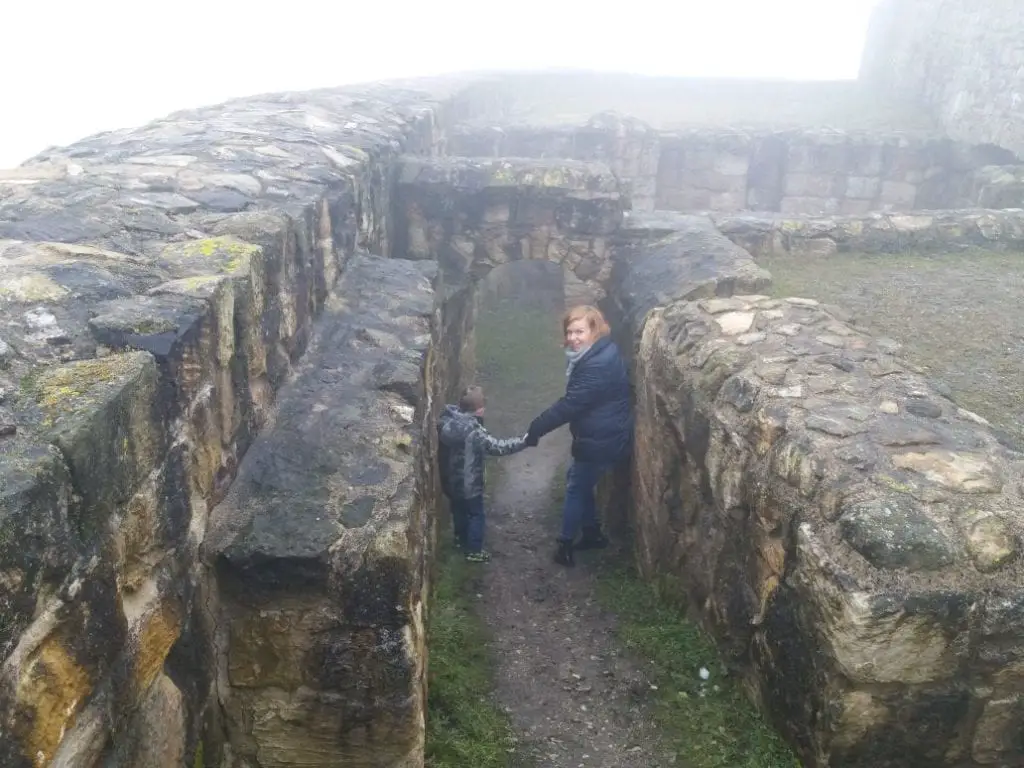 Wasserpark am Iberg in Oerlinghausen-Währentrup
A great stop is the Wasser Park in Lage. The name is a little deceiving because it is not a water park at all, it's a privately owned free garden only open during the week to the public. It is very popular with German tourists for its unusual botanical creations, modern sculptures, and ponds. You can picnic there and kids are welcome to run around to their heart's content. Finish the visit off with coffee and cake at Hotel Mugge across the street. Or you can explore the hiking trails. You'll find a hike entrance behind the hotel and you can hike to the restaurant Bienen Schmidt from here, trails are not marked from this location so use google maps. (30-45 minute hike)
Hotel Mugge: Währentruper Str. 61, 33813 Oerlinghausen. Parking for the gardens is direct across from the hotel.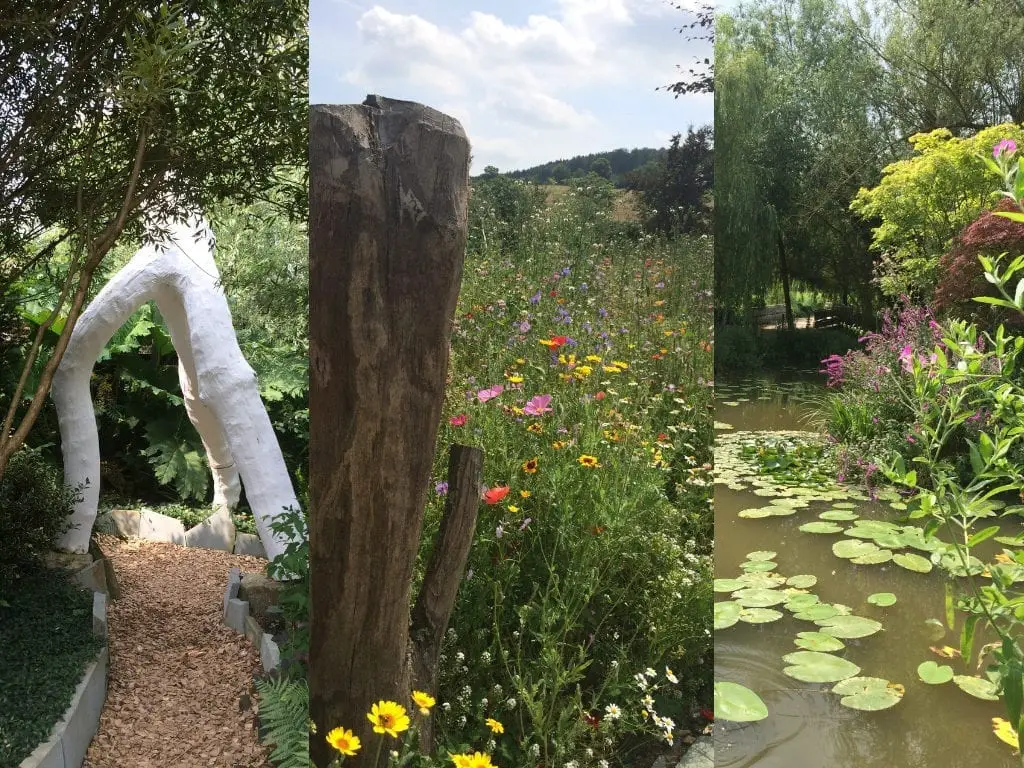 Where to stay:
Haus Berkankamp is a perfect spot for a country getaway. The hotel includes a beautiful garden, a playground for kids, and you can even feed the deer out back. If you'd like to eat dinner here you must reserve a spot early in the day. Breakfast (which is included) is local products delightfully presented in traditional German fashion. Im Heßkamp 50, 32791 Lage
Währentruper Str. 61, 33813 Oerlinghausen.
Air BnB does have some listing for rooms in Detmold and surrounding areas.
Where to eat:
You have to have a car or hike/bike to get to this beer garden tucked away in the woods. You can hike directly from Hotel Berkankamp or research the trail system online. Open year-round, it is a must visit in Lipperland. For the daring foodie, try the Lippische specialty, Lippische Pickert (pancake, liverwurst, and raisins) if liverwurst and raisins do not excite you, the schnitzel with Argentina sauce is a popular item!
Kalkreute 100, 32791 Lage
Local family owned brewery with a great nighttime atmosphere.
Lange Str.35 32756 Detmold
For a romantic dinner try Varus. It is located in the Hotel Arminius. Ritterstrasse 2-8, Badsalzsuflen. Plus there are lots of late night bars open on the main street for after dinner drinks. We went to Anno 1571 after dinner for a beer, it's a tiny bar with a big party on Saturday nights! Ritterstrasse 2-8, Badsalzsuflen.
Getting there
:
You can take a train into Detmold, however, a car is really recommended to be able to explore this region. Either option is only about 2,5 – 3 hours, so the choice is up to you! 
If you don't have a car, but would like to explore, you could always rent a car or join a ride-sharing program.
---
Do you have questions about living #LifeinDüsseldorf? Feel free to send us an email with your question at hello@lifeinduesseldorf.com. If you have tips you'd like to share with others, we're also accepting guest posts which include the author's name, bio, and photo.
Looking for some more tips? Join our group of community explorers and register for our monthly newsletter (packed with the hottest events, seasonal activities, upcoming job opportunities and more)!