Weekend Getaway: The Car-free Community of Giethoorn, Netherlands
You know those bucket list worthy/Instagrammable destinations that you always say you want to visit but never find the time to get around to visiting? Well, one of those picturesque places is just a 2,5-hour drive away from Düsseldorf which leaves you with no more excuses and a whole lot more time and opportunity to get out there and explore!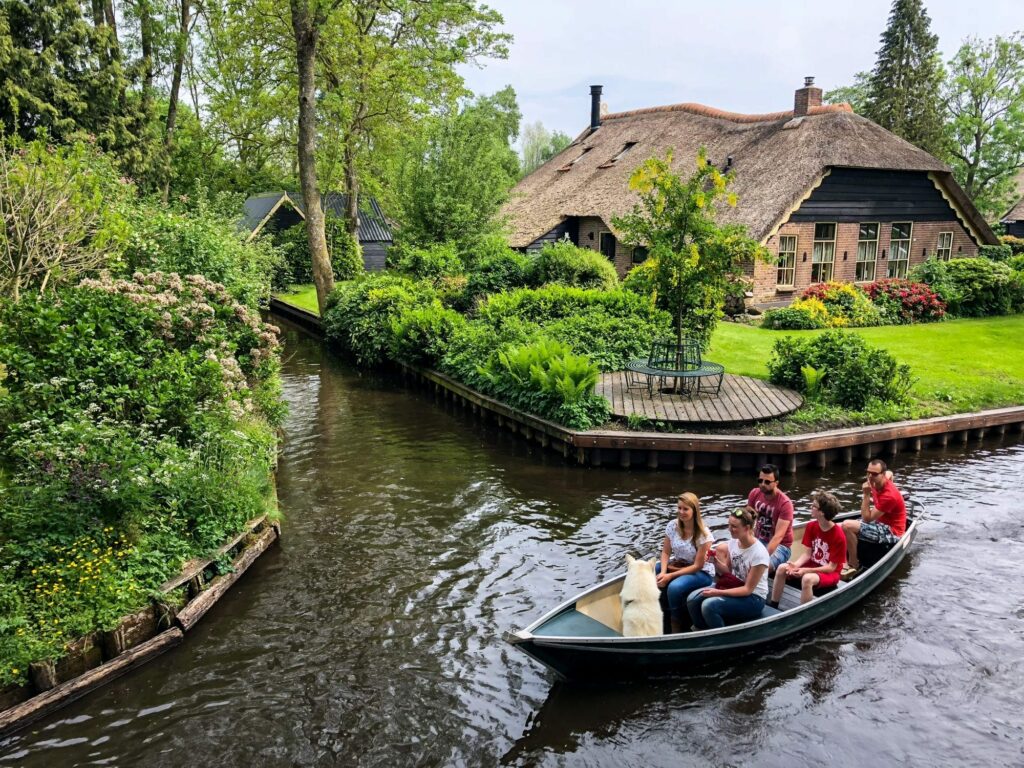 This blog post may include an affiliate link or two. Our partners have been hand-selected based on brands and services that we personally use. If we make a few extra Euros, we invest the earnings into building the platform to bring you better content and more amazing opportunities.
The beautiful and enchanting little town of Giethoorn, Netherlands has a population of just over 2,600 people and is located in the province of Overijssel. Many people compare Giethoorn to "Little Venice" because of its beautiful and quaint canals running alongside the local homes.
To be honest… I'd say it's even more breathtaking than Venice! 
The heart of Giethoorn is completely car-less which means you have two options, rent a boat and explore the canals by water, or grab a map and start walking along the canals, and over the 180 beautiful little bridges.
Surprisingly, Giethoorn only really made it on the map as a hot spot to visit after the famous comedy Fanfare was released in 1958. But don't be surprised now if you find that on the nice sunny days, there are many mini traffic jams in the canals as the boats and canoes try to pass one another.
How to get from Düsseldorf to Giethoorn?
Part of what gives Giethoorn so much of its charm is that there are no direct bus or train routes to get you there. Of course, in terms of practicality, getting you from Düsseldorf to Giethoorn, it might not be an easy weekend getaway, but it's definitely worth finding an alternative way to arrive.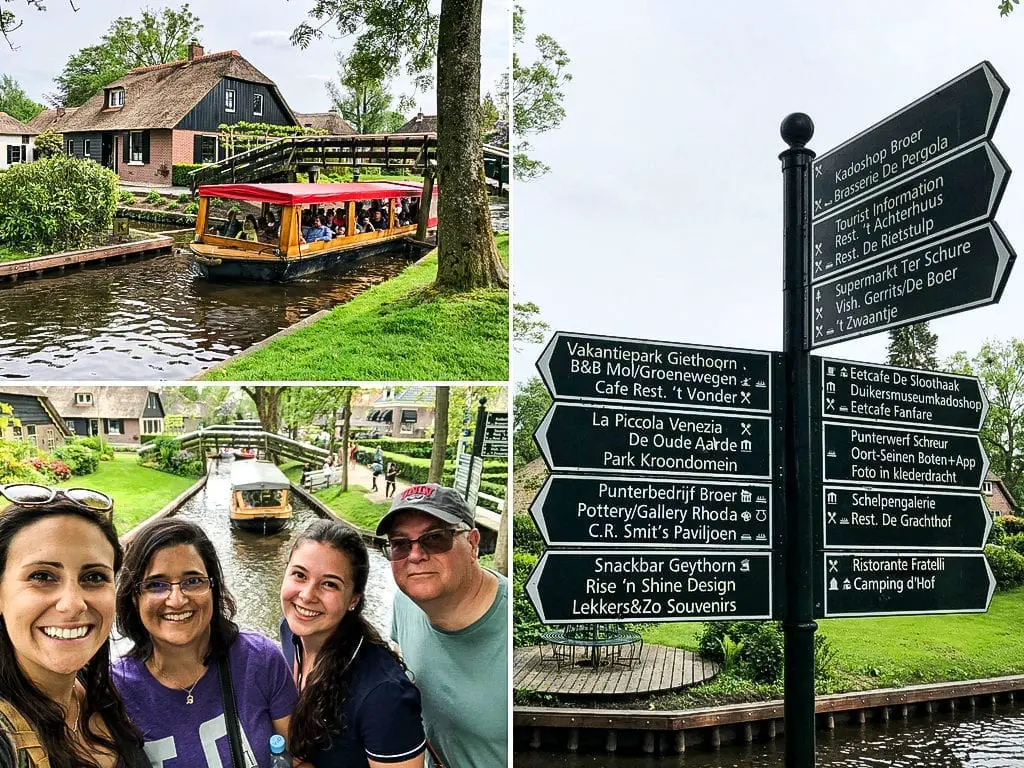 If you've got a car (or a friend with a car ????), head on out on a road trip up to Giethoorn for the weekend. It takes about 2,5-hours to get from Düsseldorf to Giethoorn and there are many other cities along the way worth stopping into and exploring like Nijmegen, Arnhem, and Flevoland (if you have time to pop over to the island of Flevoland, it's definitely worth the short detour).
If you don't have access to a car but are interested in doing what I did and renting one for the weekend, you can often rent a vehicle for around 20 Euros a day. A good price comparison website for rental cars is MietwagenCheck.de.
But! If you're really up for the adventure, you can always look into a cheap Flixbus that takes you to Arnhem and then find a connecting train from there.
What are the Giethoorn highlights?
Giethoorn was one of the only towns that I truly loved visiting without prior plans or arrangements as to what to see. If you enjoy spontaneous adventures, I'd say… just go and explore! Giethoorn is a tiny town, so I promise you, if you decide to go with the flow and explore on your own, you won't miss out on a thing.
If you'd prefer to jot down a few tips before you go, here are some of the highlights I would recommend checking out while you're visiting.
Rent a boat or take a guided canal cruise
Canal cruises start at 7,50 Euro per person (note: prices are always subject to change), and renting a boat will depend on the size and number of guests you are traveling with. The more people you're visiting with, the cheaper the boat rental will be (per person).
Visit the Museum Giethoorn "'t Olde Maat Uus" 
This little museum tells the history of Giethoorn and allows you to imagine what life in Giethoorn may have been like over a century ago. The admission price is 4 Euro for adults and 1 Euro for children (note: prices are always subject to change). If you still want to learn more, there is also a unique museum about minerals and gems called the Museum de Oude Aarde and a historical car museum called The Histomobil.
Sit along the river banks and people watch
Giethoorn is a peaceful place and such a fun town to people watch in. In the summer months, there are quite a lot of visiting tourists which causes the canal-ways to fill up. It can also be quite entertaining to watch when there are hundreds of inexperienced boaters trying to pass one another as the larger canal cruise boats may their way through.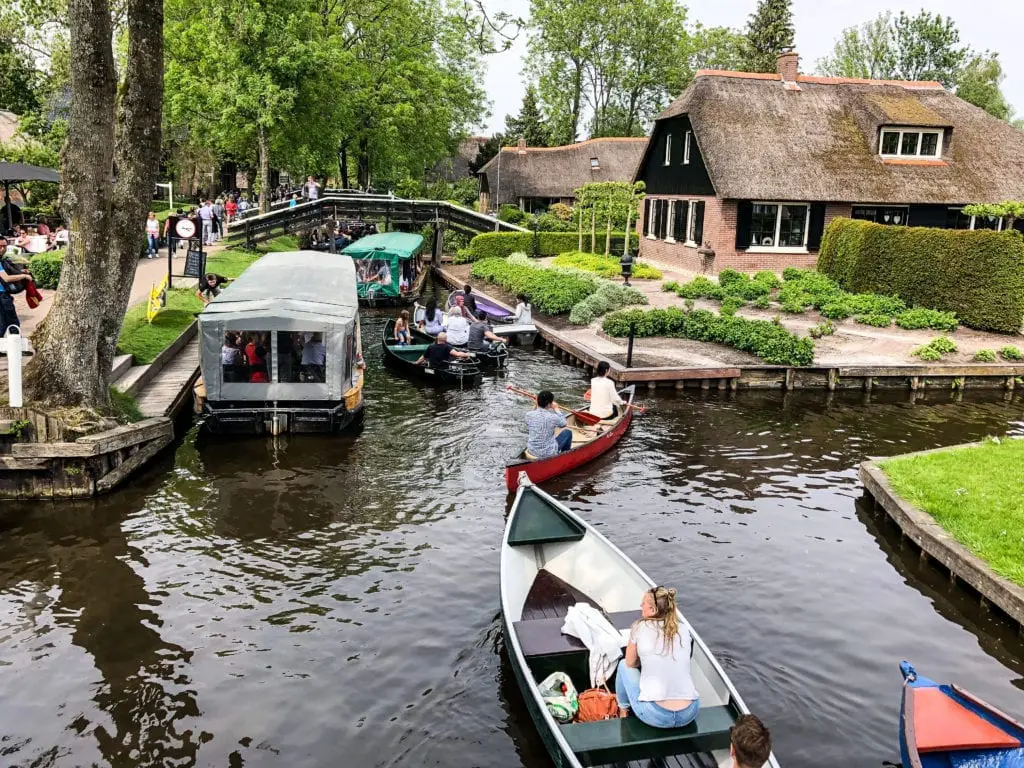 Best places to eat in Giethoorn?
Giethoorn is used to welcoming crowds of traveling visitors when the weather's warm, so there is certainly no limit to delicious restaurants in the area. Here are a few worth visiting:
Cheap Eats: Vishandel Gerrits & De Boer
While you're in the Netherlands, there's no better way to embrace the food than by chowing down on some fresh herring, kibbling or fried white fish! Vishandel Gerrits & De Boer is located right along the main strip where you will find many other smaller shops and plenty of boat rentals.
Fine Dining: De Grachthof
Located along the river canals (and a perfect spot for people watching), De Grachthof is an awesome place to stop for a nice lunch or scrumptious dinner. There is indoor seating as well as a huge outdoor terrace overlooking the canals. De Grachthof offers a wide selection of international cuisine as well as some Dutch favorites.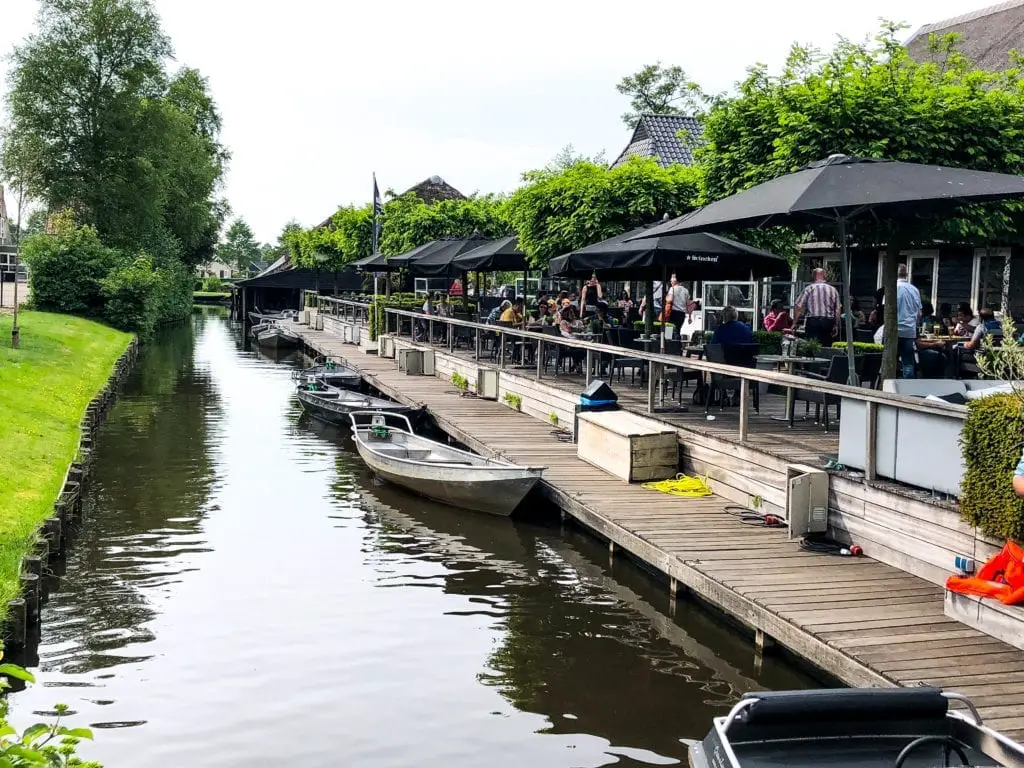 Best places to stay in Giethoorn
There are so so many wonderful places to stay in Giethoorn, but while you're here… forget hotels! It's all about the bed & breakfast experience. Here are a few that I know you'll fall in love with, as did I:
All of these offer free wifi, beautiful views of the canal with an open terrace, continental breakfast and free parking! What more can you ask for?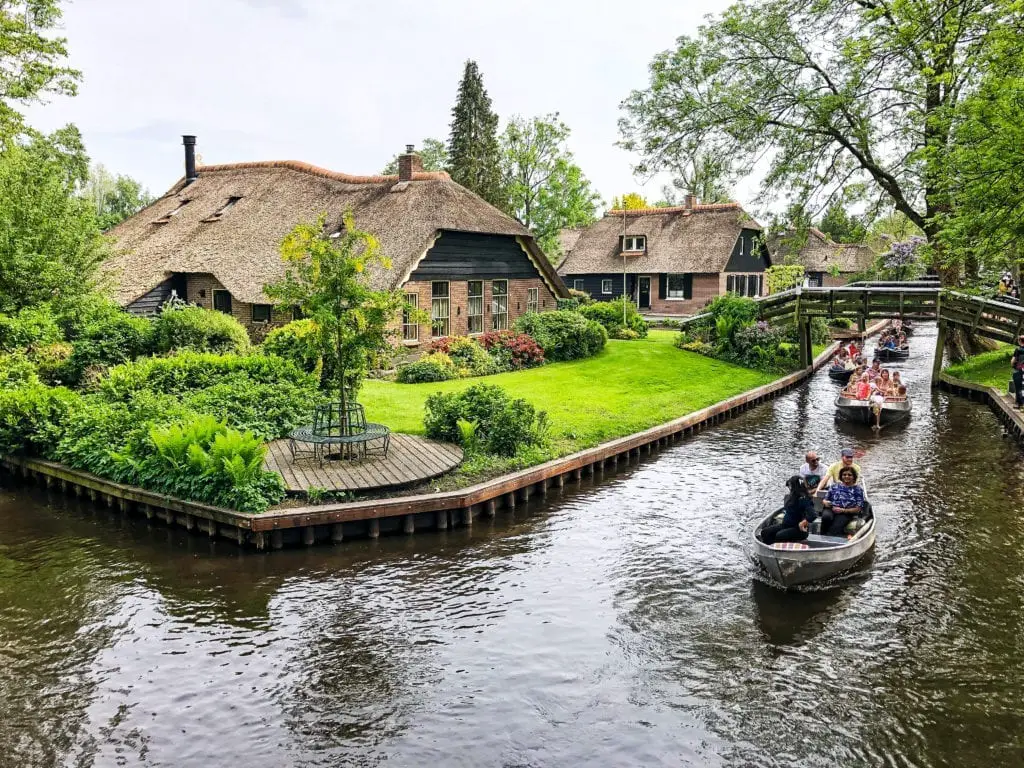 ---
Do you have questions about living #LifeInDüsseldorf? Feel free to send us an email with your question at hello@lifeinduesseldorf.com. If you have tips you'd like to share with others, we're also accepting guest posts which include the author's name, bio, and photo.
Looking for some more tips? Join our group of community explorers and register for our monthly newsletter (packed with the hottest events, seasonal activities, upcoming job opportunities and more)!