So you're new to the city and you know nothing about the area. I know that feeling, we all know it… after all, we've all been there, haven't we? 
There's nothing worse than getting a job in Düsseldorf, having a couple months to search for a new apartment online and on top of it all, you've never even seen Düsseldorf in person. A lot of expats who come to Düsseldorf for work face this struggle constantly. The interviews are all done online, the job is yours and then you're faced with an entirely new set of challenges. So… where do you find your apartment? 
You might want to live in the hip, cool parts of the city where the restaurants and bars are plenty, or perhaps you'd prefer some greenery surrounding your flat (or a park that isn't a bed for the homeless). These are the things no one tells you when you're looking into buying/renting your first flat in the city.
Thankfully, Christelle Cronenberg, Co-Founder of Relocation Experts, is here to give us a guide to Düsseldorf's districts and which one might be the perfect fit for you.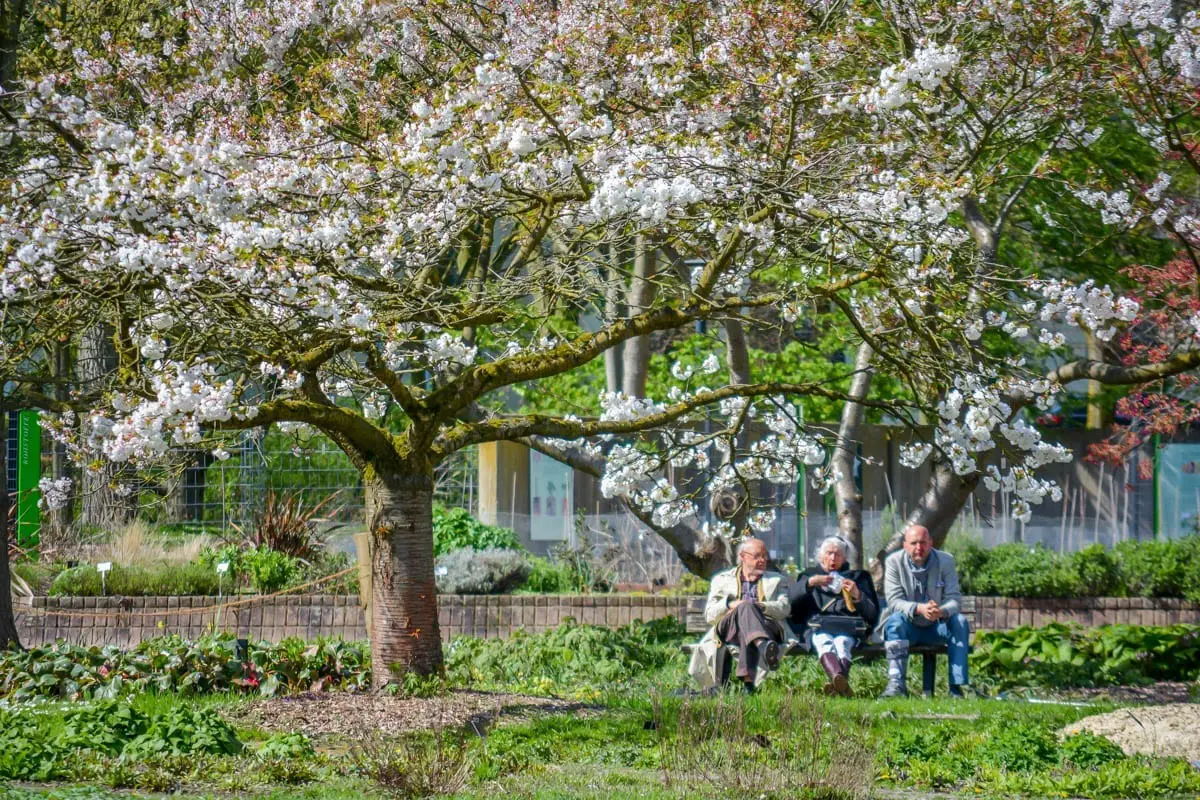 I like to call Düsseldorf "the 10 minutes city": from pretty much anywhere, you can reach the airport, the forest, the city center, your children's school in 10 minutes (by car, tram or bicycle). 
Choosing your place of residence will determine your lifestyle, there's no question about it. So, here are a few tips to help you find your district among the many options Düsseldorf has to offer.
Friedrichstadt, Altstadt, Stadtmitte: shopping, drinking & dining 
This is where you will find the biggest choice of bars and restaurants. It is urban, yet the Rhine is only a few steps away to take walks. Many young couples and students live in these districts. It is ideal if you like to walk everywhere, because you won't need a car (you also likely won't find parking).
Note: Depending on how close to live to Bolkerstr. and the bar streets of the old town, you might need to pack some earplugs or join the party in the evenings.
Unterbilk, Bilk, Medienhafen: urban, young & trendy
A short distance from the shopping, drinking and dining are districts like Unterbilk, Bilk and the Medienhafen. These are young and trendy areas offering a number of delicious restaurants and boutique shopping streets (like Lorettostrasse). Within 10 – 15 minutes (biking or taking the tram) you'll be in the heart of the old town.
Oberbilk: affordable and happening
If you are a city person or you're looking for the best transit connections, this is the perfect place to live. Oberbilk is close to the train station and also offers a great selection of international cuisine (Japanese, Greek, Turkish). Oberbilk often has many smaller flats available for the younger crowd who are looking for low-budget rentals.
Note: You will want to choose your accommodations in Oberbilk wisely. While the district is a wonderful place to live and is quite artsy, there are a couple areas where the homeless and drinkers enjoy spending their days. If you're not bothered by a little true and honest city life, you'll be fine!
Gerresheim, Grafenberg, Düsseltal, Zoo: Perfect mix of nature and city
These areas are near the largest forest in Düsseldorf, Grafenbergerwald, an ideal place to jog, cycle and even ice-skate at the Zoo park. Many French families chose to live there as the French Lycée is located nearby. Districts like Gerresheim, Grafenberg, Düsseltal and Zoo are still perfectly connected to the main tram lines so you'll be in the old town center within no time at all.
Golzheim, Oberkassel, Niederkassel, Pempelfort, Derendorf: chic and trendy
Located a short distance from the city center (on the opposite side of Unterbilk, Bilk, and Medienhafen), these districts have many hidden secrets: amazing lawns along the Rhine, parks and wonderful cozy restaurants. Golzheim, Oberkassel, Pempelfort, and Derendorf are on the higher end when it comes to rental pricing. You can find high-class cuisine, quality boutique shops and trendy coffee shops around every corner.
Flingern: happening and cosmopolitan
This area of Düsseldorf has many hidden treasures to be discovered. It is rather urban, yet a step away from the forest. Many trendy restaurants and direct tram to the city center. Many internationals tend to move here when they're looking for a little bit of peace away from the old town, but still interested in being surrounded by restaurants and shops.
Benrath,  Hassels, Holthausen, Wersten: accessibility and green space
These are the districts where you will find a perfect mix of green space and personal space. If you're not big on city life, Benrath, Hassels, Holthausen, and Wersten are wonderful districts to settle down with a family and get some peace and quiet. Many families choose to live in these districts a little further out of the city if they own cars, want parking spaces and have to travel a distance to get to work (accessibility to the highway – and avoid the inner city congestion).
Garath, Hellerhof: families and gardens
Similar to Benrath, Hassels, Holthausen and Wersten, you'll find many family houses in Garath and Hellerhof. You're close to nature, it'll be quite easy to hop on the highway to get to work, and you'll have a lot more living space than you would in the city center. Some consider these areas to be the suburban outskirts of Düsseldorf, but you still have the intercity connections by bus and public transit (you might actually find some more affordable housing here too).
Kaiserwerth, Kalkum, Wittlaer, Angermund: international flair
This is where most international families settle down for the proximity to the International schools. They are more residential and green areas. Finding a flat for a family of 5 isn't always the easiest in Düsseldorf, but districts like Kaiserswerth, Kalkum, Wittlaer and Angermund often offer more options and larger flats. There are train connections, but having a car while living in one of these districts is also a good option.
Lichtenbroich, Mörsenbroich, Rath, Unterrath: Airport City 
If you're an international traveler and looking for the closest spot in the city to the airport so you can hop back on that plane and jet off exploring, then any of the districts around Rath and Unterrath will be your best option. Housing is a little more affordable and you're also more likely to find a bit more space to settle down in. There are constant public transit connections from here to the Altstadt, so you'll still have the same accessibility as many of the other districts in the city. There are also a couple international head offices here too!
Hamm, Himmelgeist, Itter, Urdenbach: the countryside near the city
Perfect if you are looking to live in a house, walk your dog and enjoy a garden. If you love the nature and aren't ready to give it up for the Düsseldorf city life yet, these districts are a perfect compromise. These areas are further from the old town but have a lot to offer for those who enjoy the countryside lifestyle. There are still great bus connections, small restaurants, and grocery stores.
Of course, that's not all. Düsseldorf has many different districts which are all special and unique in very different ways. Are there any other districts you would add to the list? What are they known for? Why would an international like to move there? Let us know in the comments section.
---
Do you have more questions about living #LifeInDüsseldorf? Feel free to send us an email with your question at hello@lifeinduesseldorf.com. If you have tips you'd like to share with others, we're also accepting guest posts which include the author's name, bio and photo. 
Looking for some more tips? Join our group of community explorers and register for our monthly newsletter (packed with the hottest events, seasonal activities, upcoming job opportunities and more)!