Local Entrepreneurs | LESPIRANT is Changing the World of Undershirts
We've all come to Düsseldorf, Germany for many different reasons. Some of us came for work, others came to be with their loved ones and some are just looking for a new adventure. Regardless of how you came to be in Düsseldorf, there are a number of us who want to let our passion shine and who are hoping to create businesses of our own.
In order to inspire you and to shine a light on some of the successful entrepreneurs already working in Düsseldorf, we've started up the series "Expat Success Stories and Local Entrepreneurs".
Our very first Expat Success Story is about Laurent, Founder of LESPIRANT and local expat originally from France.
Laurent was born in France with a Vietnamese father, and a half French, half Vietnamese mother. He moved to Houston at the age of 15 and studied Aerospace there. In 1995 and 1996, Laurent studied and interned abroad in Stuttgart and Munich, and then finished his education (MBA) back in Houston, Texas at Rice University.
After years of practice and education, Laurent has recently founded his company, LESPIRANT,  a re-invented undershirt that will change the world of undershirts as we know it.
Intrigued, I asked Laurent a couple of questions so that we could share his success story with you!
LESPIRANT. "SPIRANT" means to breathe in Latin.
First, tell us about your expat story.
When did you move to Düsseldorf? What was your motivation?
I sold a project to a client here, and initially, I was supposed to train resources for 5 months and go back to Texas, but we couldn't keep our resources, so the client asked me to stay.
What do you love most about living in Düsseldorf?
I had no clue about Dusseldorf when I lived in Texas. But I quickly realized that the quality of life is quite remarkable here. On the practical side, I love the airport…it's within 15 minutes from the old town. On the social side, I love that Dusseldorf has so many events to give us an excuse to go outside and socialize with friends over drinks: Frankreichfest, Japan-Tag, Rheinkirmes, Karneval, WeinFeste, and the list goes on.
What's your greatest hidden secret around Düsseldorf?

My all-time favorite is a Korean bistro called Pozangmatcha (aka Finanzamtche) on Ostrasse 139. You can drink soju and beer, and it feels a little like a drunk scene from a Korean soap opera.
What tips do you have for other expats who are interested in starting up a business in Germany?   
Don't underestimate accounting/legal costs. It can easily cost up to 1,500 Euros to make a legal entity, and about 200-300 Euros/month for accounting services, even if you just have expenses. It took me 18 months to open my e-commerce store, and it's been painful to pay my accounting when I only have expenses. Do as much prep work before forming your legal entity so that you can minimize the "setup phase" when you have no revenue.
Prepare for communication delays if you have a day job. If you have a day job, it's hard to get motivated after 6 pm to work on your business. Everything takes 2x, 3x longer. Especially if you need to work with suppliers, because you can't get back to them right away, so all communications always have 1 or 2 days of delays.

Now, tell us about your company.
What is your company vision?
It's silly, but it's nothing short of changing the world of undershirts. LESPIRANT is not just a new brand, it's a distinctly different new cut for undershirt design. Before you had the crew-neck, the v-neck, and the muscle shirt (aka. The wife beater). The L-Cut is a 4th category on its own.
While I do want to profit from my business, I don't want to build it on the back of exploited textile workers or with disregard toward mother earth. I've followed a blunt and simple guideline that no one will be negatively affected due to my supply chain. Everyone taking part should have at least 4 weeks of paid vacation and 3 months of paid maternity leave with health insurance coverage. For this reason, I've kept the entire supply chain in the EU. Our TENCEL fabric comes from an award-winning closed-loop plant in Austria, sourcing its raw material from sustainably managed forests. Since packaging ends up in the trash, we kept it very simple with a biodegradable plastic bag from Romania. This is important to me and while it does lead to higher costs, I will take a leap of faith that customers also care.
Tell us more about the product itself.
The L-Cut is design functional and for once, you don't have to compromise: you can have your cake and eat it too as the saying goes. You get all the benefits from wearing an undershirt, protecting your dress shirt from sweat stains, but none of the drawbacks: no collar, no under shadows, and not feeling too hot. Besides having no front, the back is short by design to float above the waist to allow for better ventilation across the back and you don't even have to tuck it in. The fabric is TENCEL, very soft and much better than cotton for sweat absorption and odor control.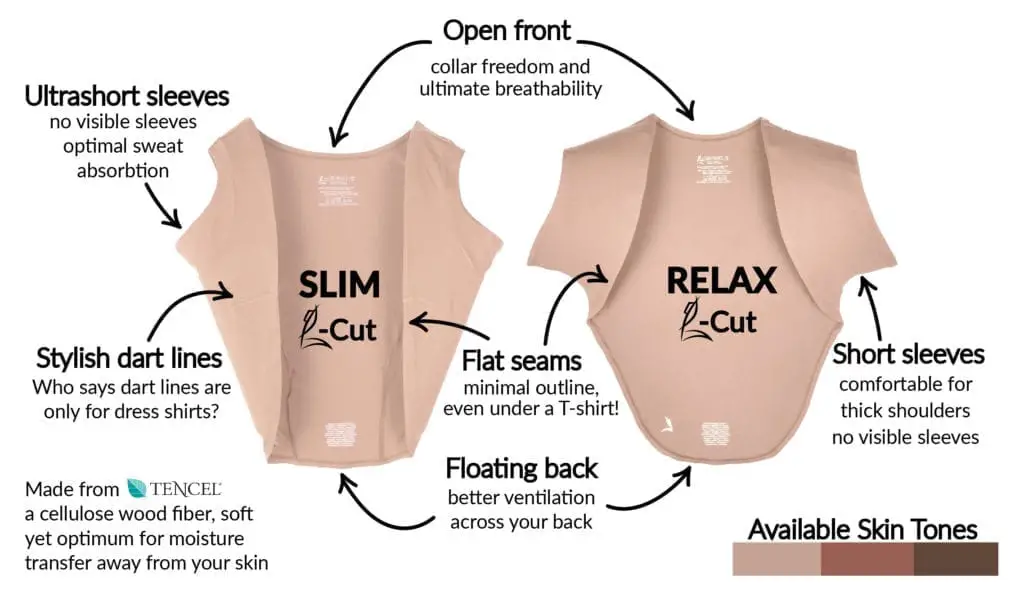 What inspired you to create this business?
They say 'need' is the mother of invention, and that was very much true in my case.
I was tired of stretching down my v-neck to make sure it wouldn't show when I left my top 2 or 3 buttons open, and I hated being hot wearing undershirts. So one day, I took a pair of scissors and cut the front up. I still have the first crude prototype I ever made. Last but not least, I just thought it would be crazy fun to go into an industry I had zero background knowledge in.
Who is your target market?
My immediate target audience is social dancers (tango, salsa, swing, etc) because dancers will immediately recognize the benefits of the L-Cut. However, my larger market is anyone wearing a dress shirt who are fashion conscious in and out of the office. My ads will also target women to buy it as a gift for the men in their lives. We also plan to have a woman's version of the L-Cut in early 2018 too!
How can locals in Düsseldorf help support you in your endeavors?
The L-Cut is a drastic change from the traditional undershirt, but as a new product category, there's always room for improvement. We want your feedback! You can get 1 for 20 Euro, or 3 for 50 Euro with these discount codes "LifeInDus1", and "LifeInDus3" on our online shop. 
---
Do you have more questions about living #LifeInDüsseldorf? Feel free to send us an email with your question at hello@lifeinduesseldorf.com. If you have tips you'd like to share with others, we're also accepting guest posts which include the author's name, bio, and photo. 
Looking for some more tips? Join our group of community explorers and register for our monthly newsletter (packed with the hottest events, seasonal activities, upcoming job opportunities and more)!