Even though Germany is the largest economy within the European Union, it still has some of the most affordable housing anywhere in Europe. This means that there's more interest in living and working in Germany than ever before. This includes moving to Dusseldorf.  
Indeed our city is an international business center renowned for its fashion and trade fairs.  Mercer's Quality of Living Survey has even previously ranked Dusseldorf as the sixth most liveable city in the world.  And with Germany's property marketing offering a strong return on investment, more expats are buying their home in Deutschland.
Property values in Dusseldorf are on the rise
For the past decade, the value of homes has been rising across Germany.  In some cities, prices have risen by 60% according to Deutsche Bank Research.   The graph below shows the property price changes in various major German cities between 2008 and 2018. It is clear that while prices have increased by 100% in most cities over this time period. While Munich remains the most expensive city in Germany to buy, Dusseldorf remains affordable compared to other cities while still offering a solid return.
Buying-to-Let in Dusseldorf:
With the vacancy rate in Dusseldorf declining and currently at just about 1% according to Deutsche Bank Research, people looking for solid and safe investments are adding property to their portfolios.  According to Deutsche Bank, prices and rents are set to increase in Dusseldorf for the foreseeable future due to favorable overall economic development.  If you're interested in buy-to-let, landlords can deduct mortgage interest from rental income taxes as a business expense.
Tools to evaluate your home buying potential:
While buying a residential house or investment property seems to be a good financial decision, the problem with purchasing a home in Germany is that the process is often overwhelming for people who aren't German citizens. To help get the process started, we're talking a closer look at how to mortgage a home in Düsseldorf or even the rest of Deutschland.
Mortgage repayment calculator:
The first step in starting your home shopping journey is to find out what your monthly repayments might look like so you can avoid any potential disappointment while shopping. A German mortgage calculator helps you evaluate what your monthly payment could look like.  With a repayment calculator, you'll know in advance how much a house will cost you per month and if your monthly budget can afford the house you want to buy.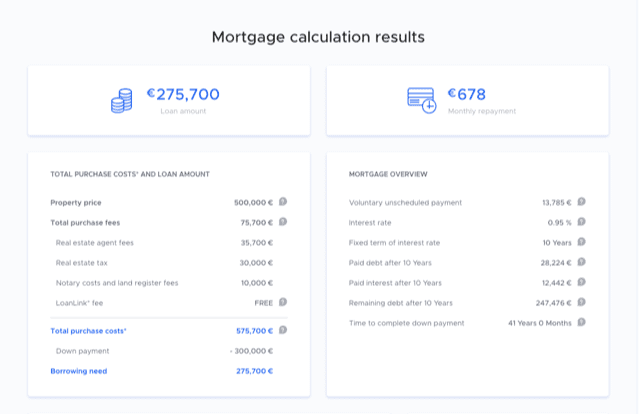 German mortgage rates:
Interest rates in Germany have decreased by more than 4% over the last decade.  This means the current market conditions make it an ideal time to mortgage a home in Germany. Securing the best rate depends on a variety of factors.  Not only does a mortgage rate calculator show you the latest interest rate, but it also helps walk you through the factors that can impact the rate banks will offer you. Variables considered include:
SCHUFA score

: a higher credit score will typically lead to a lower interest rate

Down payment:

a bigger down payment is more likely to offer a lower interest rate

Borrowing amount:

a higher borrowing amount usually results in a higher rate

Fixed rate period

: Longer fixed interest period, ex. 5 vs 10 years, usually results in a higher interest rate
If you are unsure what SCHUFA is, you can check out the Life in Düsseldorf blog post "What is SCHUFA and how do I get it for free?" 
How to work with Mortgage Brokers in Germany:
And finally, as you look for your dream home or buy-to-let investment in Dusseldorf you'll want a mortgage broker to help you seal the deal. There are more than 450 German lenders offering mortgages. A broker compares all rates and manages your application from start to finish. This saves you time and money. It's customary for all mortgage brokers in Germany to be paid a commission from the chosen lender once the mortgage contract has been executed.
This commission typically ranges from 0.5-2% of the loan's value but it can be higher in complicated circumstances. It's also important to note the deed for the house and mortgage contract must be executed in German, according to the law.
Recognizing the language barrier can be a challenge; there are a growing number of brokers who are beginning to specialize in assisting international property buyers for both personal use and buy-to-let investing.  An example is LoanLink GmbH, Germany's first certified digital mortgage broker. LoanLink's platform is available online 24-7 in English to help buyers apply for pre-approval or a full mortgage plus all mortgage advisors speak English and German fluently.
Discussing with a mortgage expert can help ensure that you receive a tailor-made solution. Being well informed about the estimated total cost, funding opportunities and financing options can surely save you time and money!
---
Do you have more questions about living #LifeInDüsseldorf? Feel free to send us an email with your question at hello@lifeinduesseldorf.com. If you have tips you'd like to share with others, we're also accepting guest posts which include the author's name, bio and photo. 
Looking for some more tips? Join our group of community explorers and register for our monthly newsletter (packed with the hottest events, seasonal activities, upcoming job opportunities and more)!