Day Trip: The Historical City of Aachen
Aachen is one of the most charming places around NRW and it is only about a 1-hour drive away from Düsseldorf (1.5 hours by train). It is a city with thousands of years of history and the former place of residence of Charlemagne. This city has much to offer, from thermal baths to the oldest Cathedral in Germany which makes it a perfect destination for a day trip from Düsseldorf.
Once you arrive in Aachen, probably the best thing you can do is simply take a Free Walking Tour which, in just an hour and a half, will give you a good overview of the history of the city and will allow you to explore all of the main monuments and attractions the city has to offer.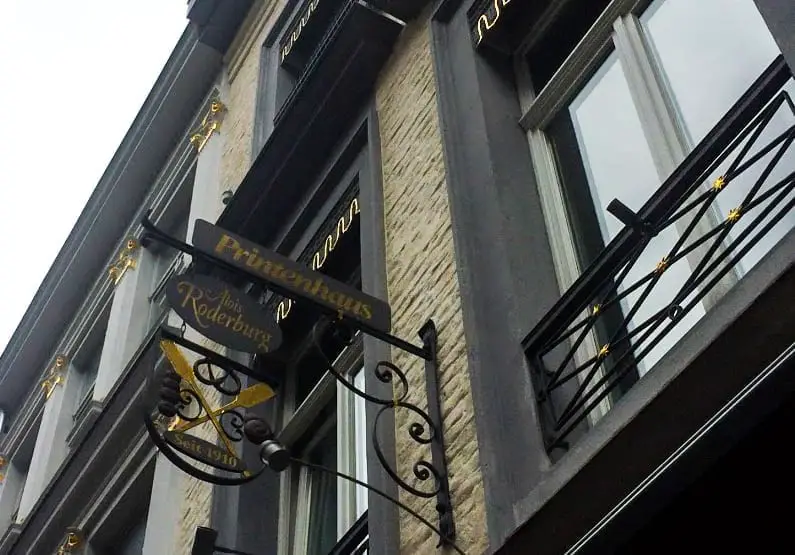 Here is a list of just a few of the places you'll be able to explore on a day trip to Aachen: 
Aachener Dom
The Aachener Dom is, without a doubt, the number 1 attraction in Aachen. Going inside this 1200-year-old cathedral built by Charlemagne is a must when visiting the city. This is a stop in the free walking tour, but unfortunately, we can't go inside as a group, so it is a good idea to come back and take a closer look at this important landmark later. Although there is free access into the cathedral (unlike many of the most important European cathedrals nowadays), people are encouraged to leave a donation which is used for the maintenance of the Dom. 
Address: Domhof 1, 52062 Aachen.
Opening hours: 7:00- 19:00 daily
Elisenbrunnen
Aachen is well known for its thermal spas and in this 1827 neo-classical building, you can find two drinking fountains that spout thermal water at a temperature of about 52 °C, which makes it one of the hottest springs in Europe! If you are in Aachen during the summer months you will find people dancing salsa every second and fourth Sunday of the month next to the Elisenbrunnen, so feel free to join in and show off your dancing skills! 
Address: Friedrich-Wilhelm-Platz, 52062 Aachen.
Opening hours: N/A
Carolus Thermen
Aachen has a bathing tradition of 2000 years, so if you want to take part in this tradition, the Carolus Thermen is the place to do it. The entry price starts at €12 which allows you to stay up to 2 hours.
Address: Passstraße 79, 52070 Aachen
Lousberg Hill
The Lousberg Hill is located in the north of the city, about a 20-minute walk from the city center. You can walk to the top of the hill (it takes about 25 minutes) and you will find a magnificent view of the whole of Aachen. You will also find some hammocks where you can relax to a beautiful view of the Aachen countryside.
Address: Kupferstraße, Aachen
Opening hours: N/A
Three Border Point
This is the point where Germany, The Netherlands and Belgium meet! This means that you can be with two other people and each one of you can be standing in a different country. Better yet, you can all be in the same picture. Pretty cool ha?! This place is only a 15-minute drive away from Aachen, but if driving is not an option for you, you can also cycle or take the bus.
Address: Dreiländerweg, 52074 Aachen
Opening hours: N/A
Ponttor
During the middle ages, Aachen used to be surrounded by a wall to protect the city from invaders, and the Ponttor was one of the main gates to get in and out of the city. Definitely a neat sight to see! 
Address: Pontwall 18, 52062 Aachen
Opening hours: N/A
Lindt Chocolate Factory
For all of you chocolate lovers, we have the perfect place for you. Close to the Aachen West train station you will find every kind of Lindt Chocolate you can imagine (and they even come with a 20-30% discount)!
Address: Süsterfeldstraße 130, 52072 Aachen
Opening hours: Monday to Saturday: 8:30- 20:00
As you can tell, the wide selection of attractions that Aachen has to offer makes it a perfect day trip destination. We hope this information was useful and, of course, let us know what you thought of Aachen in the comments below! ????
Looking for ways to get to Aachen?
---
Do you have more questions about living #LifeInDüsseldorf? Feel free to send us an email with your question at hello@lifeinduesseldorf.com. If you have tips you'd like to share with others, we're also accepting guest posts which include the author's name, bio and photo. 
Looking for some more tips? Join our group of community explorers and register for our monthly newsletter (packed with the hottest events, seasonal activities, upcoming job opportunities and more)!