The Düsseldorf Guide in 5 Days
Because we all have visitors throughout the year and most of us have no idea where to take them. Here are some unique ideas for an enjoyable, relaxing and exciting 5 days in Düsseldorf!
This blog post may include an affiliate link or two. Our partners have been hand-selected based on brands and services that we personally use. If we make a few extra Euros, we invest the earnings into building the platform to bring you better content and more amazing opportunities.
Day 1: Düsseldorf Arrival
Where you or your visitors are arriving from may be different depending on the location. Most visitors arrive at the Hauptbahnhof Düsseldorf or the DUS Airport. Regardless, make your way to the hotel and drop of your stuff before exploring the city for the day.
I always take the first day to adjust to my surroundings and get all my bearings straight. Here are a few excellent things to do on day one:
Yes, you'll feel like a typical tourist, but it's a very neat way to get to know a little more about the city and figure out where you'd like to head back to for the remainder of your trip. The Düsseldorf Hop On Hop Off is actually a lot more interesting than others that I've visited.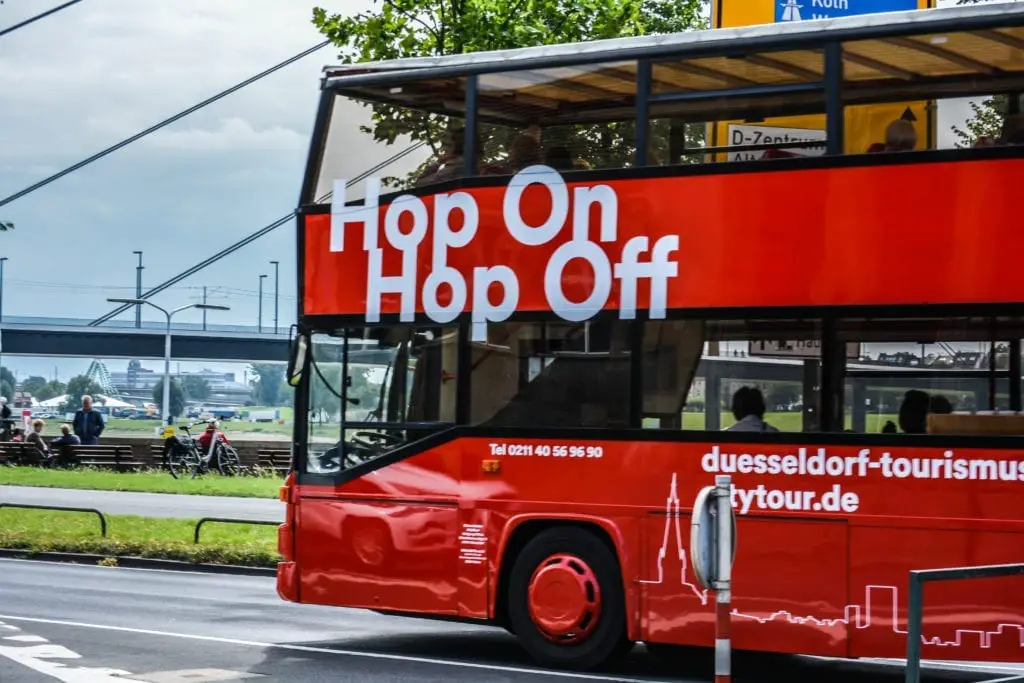 Even if you're a local, I bet most of you reading this post haven't done the KD Rhein Tour yet. There's a boat that drives between Köln, Düsseldorf and Duisburg offering scenic and informative tours. Since you or your guests have just arrived in Düsseldorf, I would recommend doing the short 45-minute tour that takes you passed the Altstadt, into the Medienhafen and back to your original docking point.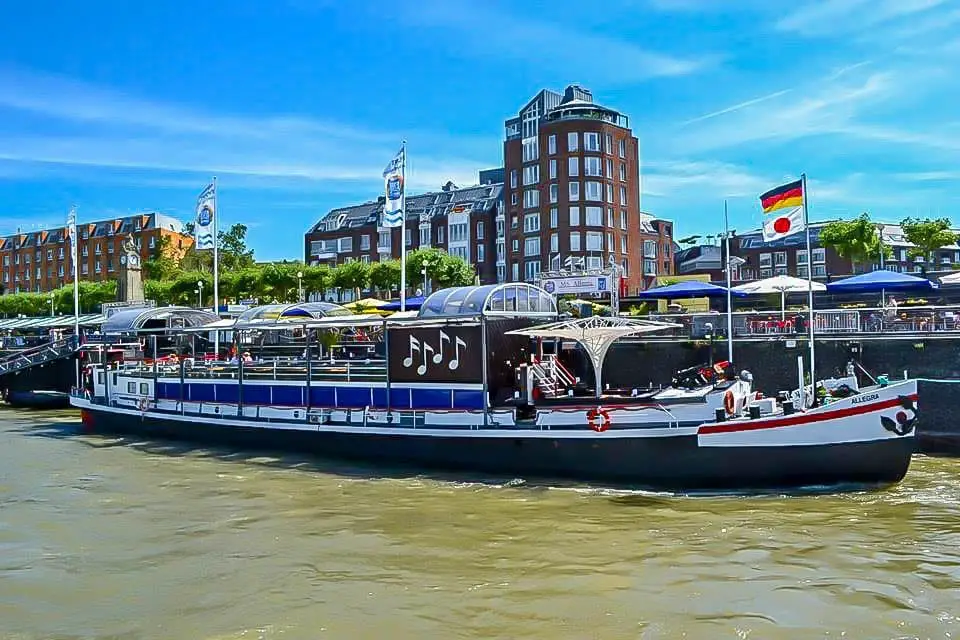 The Altstadt is a great place to start your trip. Explore by foot, do a little window shopping and get to know what life is all about in the city.
While you're still in the Altstadt, be sure to stop for a classic German meal at Schweine Janes and grab a beer at one of the local breweries.
Day 2: Düsseldorf Explorations
Now that you have your bearings straight, you'll be ready to explore the city. Try and take note of what intrigued you while on the Hop On Hop Off Tour and head back to these spots. Here are a few places that I enjoy taking my visitors to.
The architecture here is incredible. Don't miss out on the Frank O. Gehry buildings and the Chicago Bean look alike (the pebble).
If you're visiting in the spring or summer, this is a fantastic place to enjoy the nature. If you're really enjoying yourself, feel free to head over to the Botanical Gardens in Bilk too!
Flingern is known to have a lot of interesting and small artsy places. This could be a great place to stop off for lunch as well!
NOTE: If you're living in the Flingern area, be sure to make some restaurant recommendations in the comments section below.
Don't forget to head to Kiefernstraße, while it might not boast Düsseldorf's richest community, the entire street is covered from pavement to roof in art.

You have to go check out the pink castle at some point, why not make an evening out of it? There are some beautiful walks around the gardens, and they offer wonderful tours of the inside.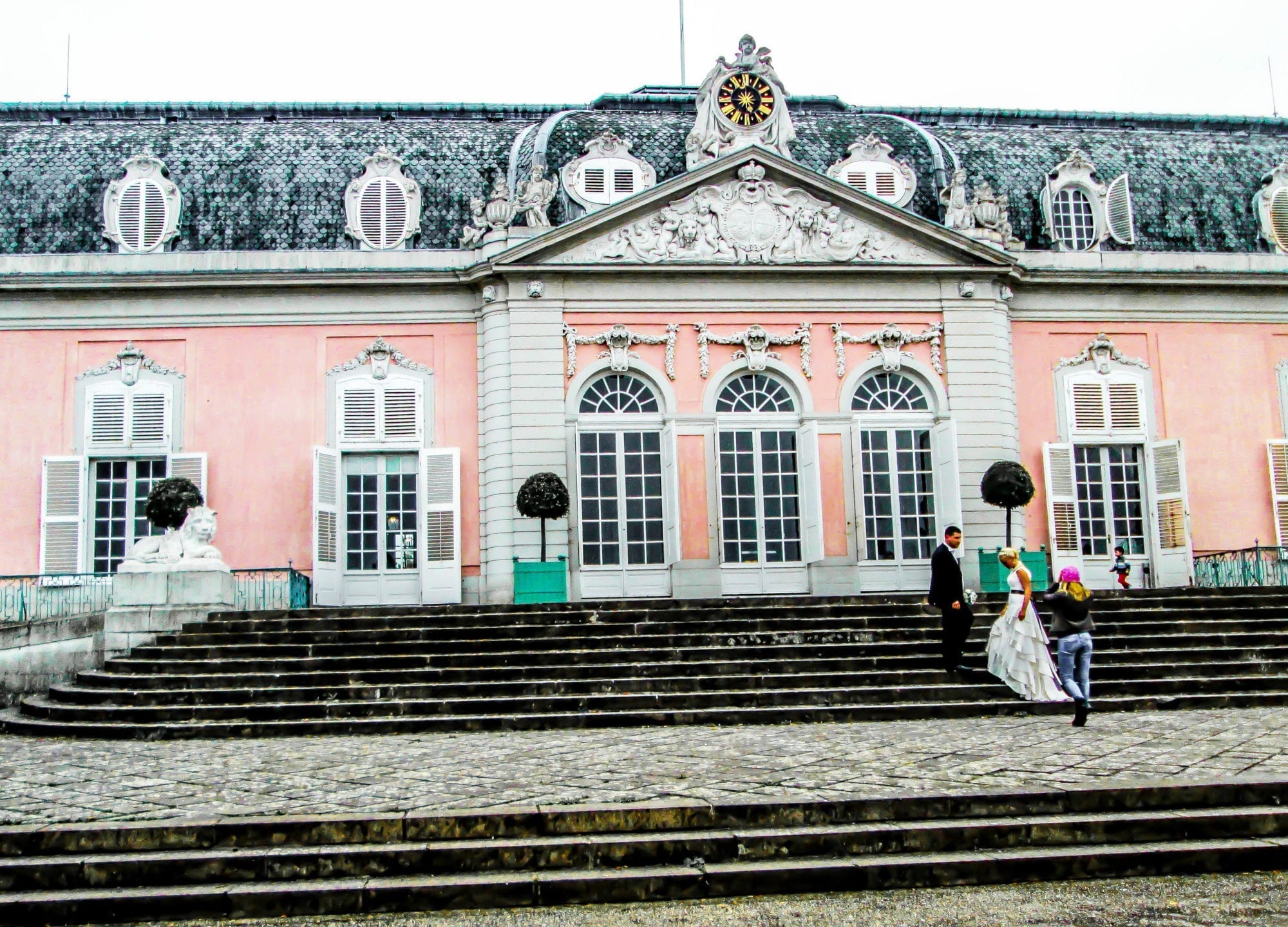 Lucky Bike has just recently launched a rental bike program throughout the Altstadt. Grab a bike and ride along the Rhein River. You can take a half day trip and bike along the Rhine until you reach the old town of Kaiserswerth. You're still in Düsseldorf, but it feels like you've reached a new town all together. Kaiserwerth has a beautiful old ruined castle, wonderful little cobblestone streets to stroll along and some awesome spots to enjoy a beautiful view of the Rhine and a delicious meal.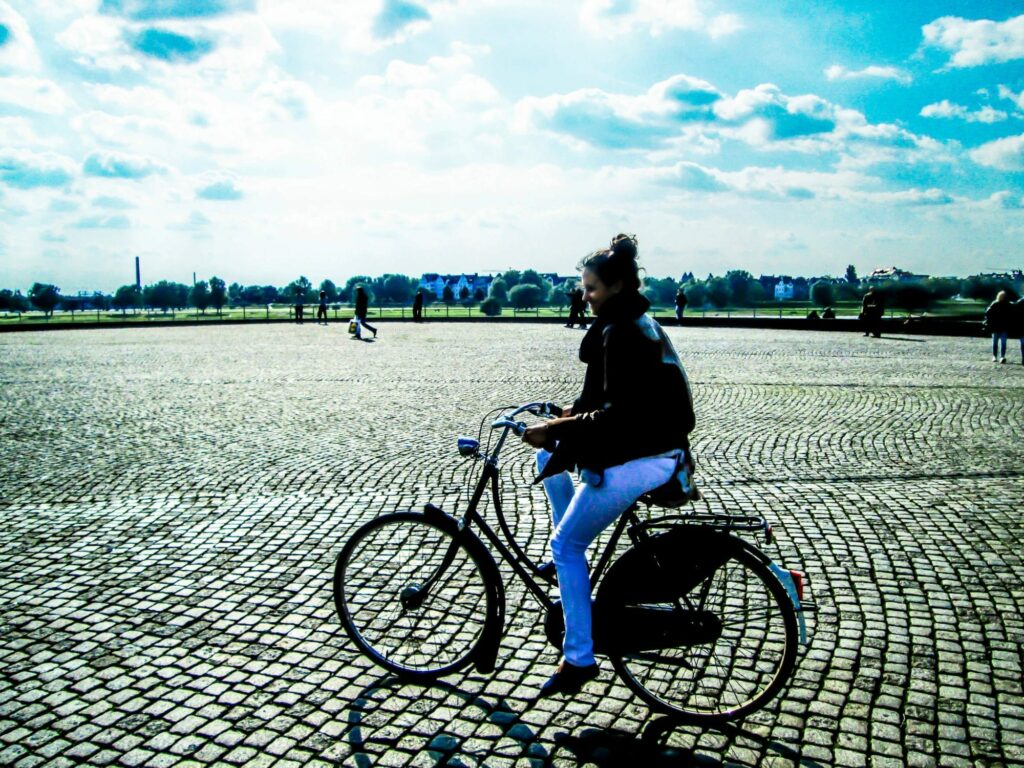 Day 4: Day Trip to Zons or Duisburg
I couldn't pick just one, but I'll leave the choice up to you.
If you enjoy old historical towns, Zons is a beautiful little old town along the Rhine River just across the way from Benrath/Garrath area. You can even take a taxi boat across the river to get there. The town can be explored by foot (it's really, really tiny) and you can peek into the cute little shops along the way. There is a beautiful old windmill just outside of the town walls and it's a nice drive outside of the city.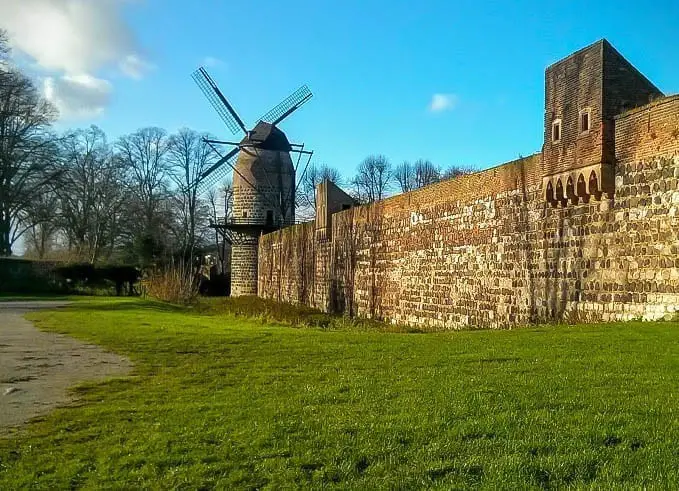 Duisburg is a city of imagination and culture. If you're into photography, this place is magical. Duisburg is one of the largest industrial cities in Germany and is home to some of the coolest industrial structures that are now open to the public to explore. Landschaftspark is one of my favorites, it includes a climbing park, old bunkers, old gasometers used for scuba diving, a sommerkino and climbing stairs to the industrial sites. The entire park is illuminated in different colors by night. If you'd like to read more, I've created a Weekend Getaway Guide to Duisburg.

Day 5: Rest and Relaxation
You're probably just about packed and ready to head out, but if you've got the entire day to explore a little more, you should dive into some rest and relaxation. While there's certainly no shortage of Thai spas around the area, if the weather is nice, go out and enjoy the Rhine.
Check out the grass grazing sheep, walk along the Rhine bridges, explore the beautiful homes of Oberkassel and enjoy one last meal along the water's edge.
---
Don't forget to include your tips in the comments section below too. Do you have any questions about living #LifeInDüsseldorf? Feel free to send us an email with your questions at hello@lifeinduesseldorf.com. If you have tips you'd like to share with others, we're also accepting guest posts which include the author's name, bio and photo. 
Looking for some more tips? Join our group of community explorers and register for our monthly newsletter (packed with the hottest events, seasonal activities, upcoming job opportunities and more)!