10 of the Best Tours to Get to Know Düsseldorf
New to Düsseldorf and still looking for ways to get to know the city a little better? Why not take the opportunity to explore the city by tour? Whether you enjoy walking tours, boat tours, Segway tours or beer tours, there are a number of ways to get to know the city of Düsseldorf better.
Here are just 10 of the best tours to get to know Düsseldorf!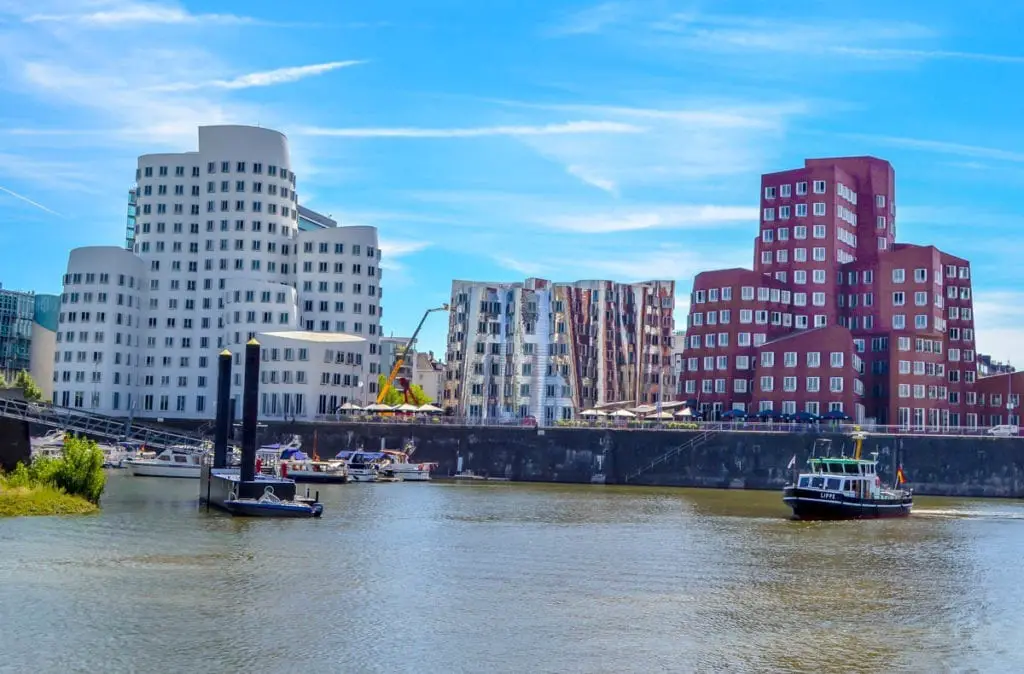 This blog post may include an affiliate link or two. Our partners have been hand-selected based on brands and services that we personally use. If we make a few extra Euros, we invest the earnings into building the platform to bring you better content and more amazing opportunities.
This is one tour that I always send my family and friends on when they're visiting, especially when they first arrive. Not only is a panoramic boat tour super relaxing on their first day upon arrival, but it's a great way to see the city as a whole before they really start to dive in and explore. There are a few different options for boat cruises in Düsseldorf, but I often choose the short 1-hour tour (simply because it's cheap ????). It's a little more than 10 Euro per person, there are washrooms on board and you'll also have the opportunity to order drinks and snacks if you'd like too.
This is the second tour that I always make my family and friends go on before they really start exploring the entire city. A great way to do it is to buy the hop-on-hop-off pass, do the full tour circuit (while listening to the stories and history on your headphones) without getting off and then mark off on the map exactly which spots looked and sounded the most interesting to you. Depending on how many days you book your ticket for (I usually just book one day passes for my guests as I find that's often enough), tickets start at around 15 Euro per person.
If you're only visiting Düsseldorf for a day, then I'd definitely recommend doing a full guided tour of the Altstadt while you're visiting. However, if you're planning on spending the week, why not tour yourself around the old town and get a little lost? There are plenty of neat shops and restaurants around the area that are awesome to check out on your own. If you're a history geek or really want to learn a bit about the city you're visiting while you're here, then a guided tour is the way to go.
You can't say you've been to Düsseldorf if you've never walked along the Media Habour before. This is a must do while spending time in Düsseldorf and definitely a great place for photo-ops. You'll likely notice a number of people posing along the bridge connecting the two sides of the Media Harbour as the location offers a picture-perfect backdrop of the city.
You've also never really been to Düsseldorf until you've tried all the Altbier there is to try. We have 5 breweries in the heart of the old town, so a beer tasting tour is the best way to make sure you've done it all while visiting. Plus, it's also a fun way to compare and figure out exactly which of the 5 is your favorite! Don't like Altbier? Then go to Köln. ????
If your idea of experiencing a city is through the awesome nightlife, then a pub crawl is the perfect tour to keep you busy. You'll have an opportunity to explore the city while also meeting awesome locals (and crazy locals haha), trying some great local drinks and getting your groove on.
If a walking tour isn't your thing because it's not exciting enough for you, then why not hop on a Segway and see the city that way instead? You'll also have a bit more opportunity to go further and explore some hidden gems in the city that you may otherwise not have time to do if you're exploring by foot.
If you're a huge foodie or a collector of all things Fortuna for example, then a customized tour might be just what you need. It's also a nice way to enjoy the city without following in a crowd of people's footsteps. Of course, this option is a bit more expensive (starting at 30 Euro per person) as it is customized, but might be worth it if you've got your own group of friends and family.
Even if you don't want to learn too much about the city, the Düsseldorf Card is a must buy when visiting or exploring the city. I actually still buy a Düsseldorf Card for myself occasionally when I know I'm going to spend the day photographing the city, exploring new areas and using the public transportation all day. The Düsseldorf card gives you free access to all the public transit in the city and a ton of discounts and free entrance into various museums, art galleries, and shops around the city.
This is also an awesome option for a bachelorette or bachelor party in the city, but it's a cool way to explore the city too! It's not everyday that you can say you toured through Düsseldorf in a Hotrod car, is it? Even I haven't done this yet, but it's on my list!
If you're looking for alternative tours and other opportunities around Düsseldorf, be sure to check out our Düsseldorf Tours page on Life in Düsseldorf!
---
Do you have more questions about living #LifeInDüsseldorf? Feel free to send us an email with your question at hello@lifeinduesseldorf.com. If you have tips you'd like to share with others, we're also accepting guest posts which include the author's name, bio and photo. 
Looking for some more tips? Join our group of community explorers and register for our monthly newsletter (packed with the hottest events, seasonal activities, upcoming job opportunities and more)!