FlurKlinik: Your Living Room in Flingern, Düsseldorf
Since I moved to Düsseldorf, the most common question people ask me is "where's a good place to go that's NOT the Altstadt?" The Altstadt does have its share of hidden gems, but there's always something exciting about knowing a few local suburban hangouts.
What's so special about Flurklinik?
Flurklinik was one of the first such bar-slash-eateries I stumbled across in D-dorf, and has been one I keep coming back to, so it seemed fitting to share it in my first article here on Life in Düsseldorf.
Getting its name from the former maternity clinic it inhabits, Flurklinik is a restaurant and bar with a casual, relaxed vibe – the kind of place where it doesn't matter if you're popping in for a coffee or dinner, from the gym or from the office: it's sort of like a living room where anybody can chill.
According to owners, Katharina and step-brother Daniel, Flurklinik started as a standard bistro-restaurant, but when they took over they felt it was about time to make it into something with a bit of extra love. The restaurant menu was updated with a decent bar to boot, serving up a small but decent range of spirits and cocktails (and beer of course), but keeping a pretty local chilled vibe.
Being gin fans, it's not too surprising that the venue plays host to "Jazz and Gin" nights the first Tuesday of each month. Gin specials combined with live jazz, a combination of the ages to be sure, and the nights are generally busy-to-packed depending on the season.
It's not all gin though; the third Tuesday of each month is "Hopfen & Stulle" (beer and stools) night, which tends to offer up a more acoustic flavour of live music.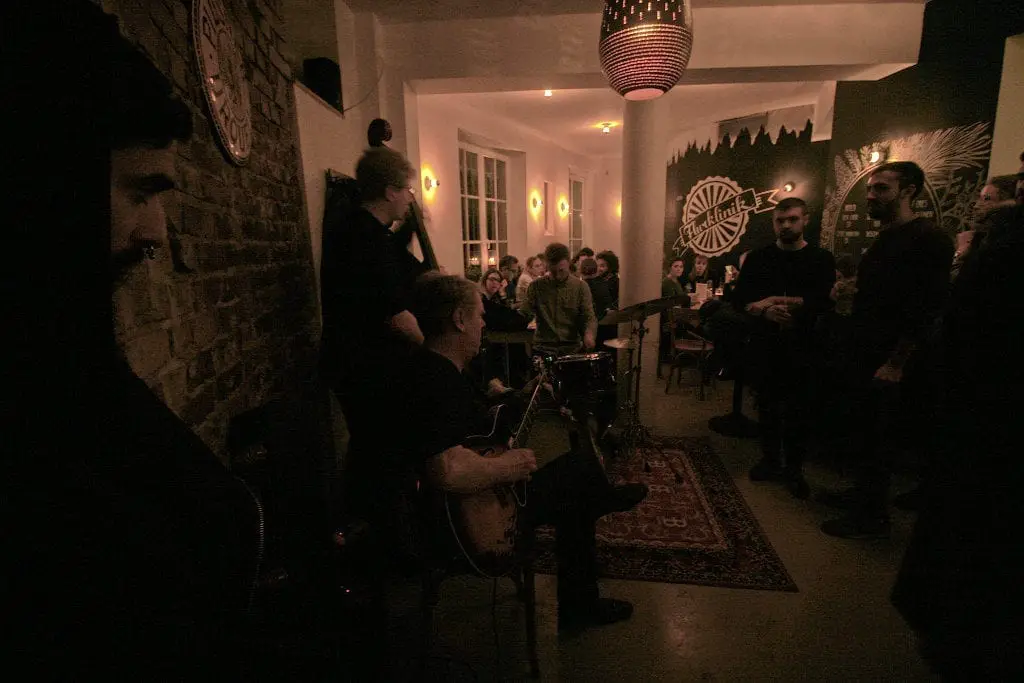 What's on the menu?
It's a smaller, focused menu with that ever-popular European kitchen mixing traditional German food with a modern twist. That is, simple food, focused on a few core, seasonal ingredients. Everything fresh and made onsite. Some Asian-flair seems to be popular, but things like tapas make the rounds too. It changes monthly though, so the best bet is to check out the menus, always available online.
They're also open to customising – if someone needs a vegan or vegetarian version or something specific, they can do that.
What about the drinks?
On the bar menu, drinks are, likewise, contained in a tighter menu. Rather than "every type of spirit or every type of beer," there's a focus on local products, but particularly gin, as the owners are fans. Monkey 47 from the Black Forest, Siegfried gin from the Rheinland and 1818 from Düsseldorf itself are a few of the gins on offer. They also make their very own Flurklinik rosé lemonade, a mixture which proved popular enough that they've already begun selling it in a few restaurants around town.
To finish things off I couldn't resist asking Katharina and Daniel what their favourite gin of the moment is, and they informed me it's one called "Völlige Fichte", a German gin from Münster, apparently made out of some sort of pine-needles. From trying it, I can confirm it does indeed taste like the forest, albeit in drinking form. Worth checking out.
Flurklinik: Important Information
---
Any questions about living #LifeInDüsseldorf? Feel free to send us an email with your questions at hello@lifeinduesseldorf.com. If you have tips you'd like to share with others, we're also accepting guest posts which include the author's name, bio and photo. 
Looking for some more tips? Join our group of community explorers and register for our monthly newsletter (packed with the hottest events, seasonal activities, upcoming job opportunities and more)!